Tottenham Hotspur and Chelsea go head-to-head in the biggest match of Matchweek 25 in the English Premier League. Both of these London clubs have failed to show consistency this season, especially Chelsea. Spurs sit fourth in the league table, and Chelsea are way below them in tenth place. This is a tough test for both teams as they look to turn around their season.
Spurs have won 13, drawn three, and lost eight matches this season. They have scored 44 goals with an average xG rate of 1.56. The defence has conceded 35 goals. Their last match was also a London derby at home against West Ham United. Antonio Conte's men won the match 2-0. Tottenham Hotspur have won three of their last four matches, including a 1-0 win over the defending champions, Manchester City. They will look for four wins in five matches.
Chelsea have won eight, drawn seven, and lost eight matches this season. Graham Potter's team is winless in their last four matches. The team has scored and conceded 23 goals each. They have a very low average of one goal per match. Their xG rate is also a bit low at 1.37 per match. A 1-0 defeat against strugglers Southampton in the last match has put Potter under a lot of pressure. His side needs three points from this match.
We look at a few stats that could predict the outcome of the match.
Season so far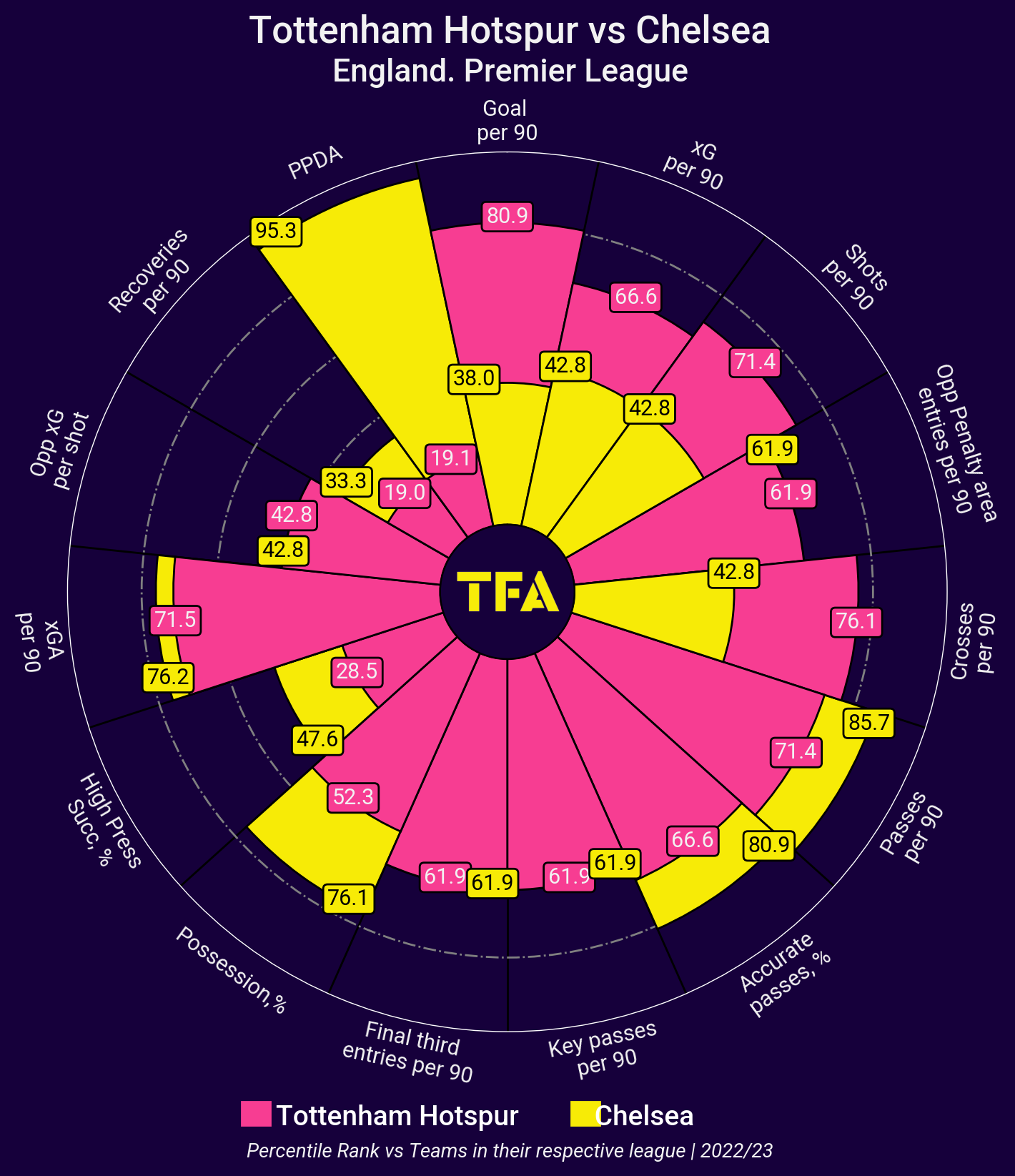 Both these teams haven't been at their best this season. The above pizza chart shows the percentile rank of Spurs and Chelsea in comparison to each other and other teams in the English Premier League. Spurs have scored more goals and created more chances in the attack. They have an edge over their opponents in the attacking department. Chelsea keeps more hold of the ball but lacks creativity. Defensively, both teams haven't been at their best and also have a low success rate in pressing the ball. Chelsea have performed way below standard, while Spurs have been decent.
The inconsistent Spurs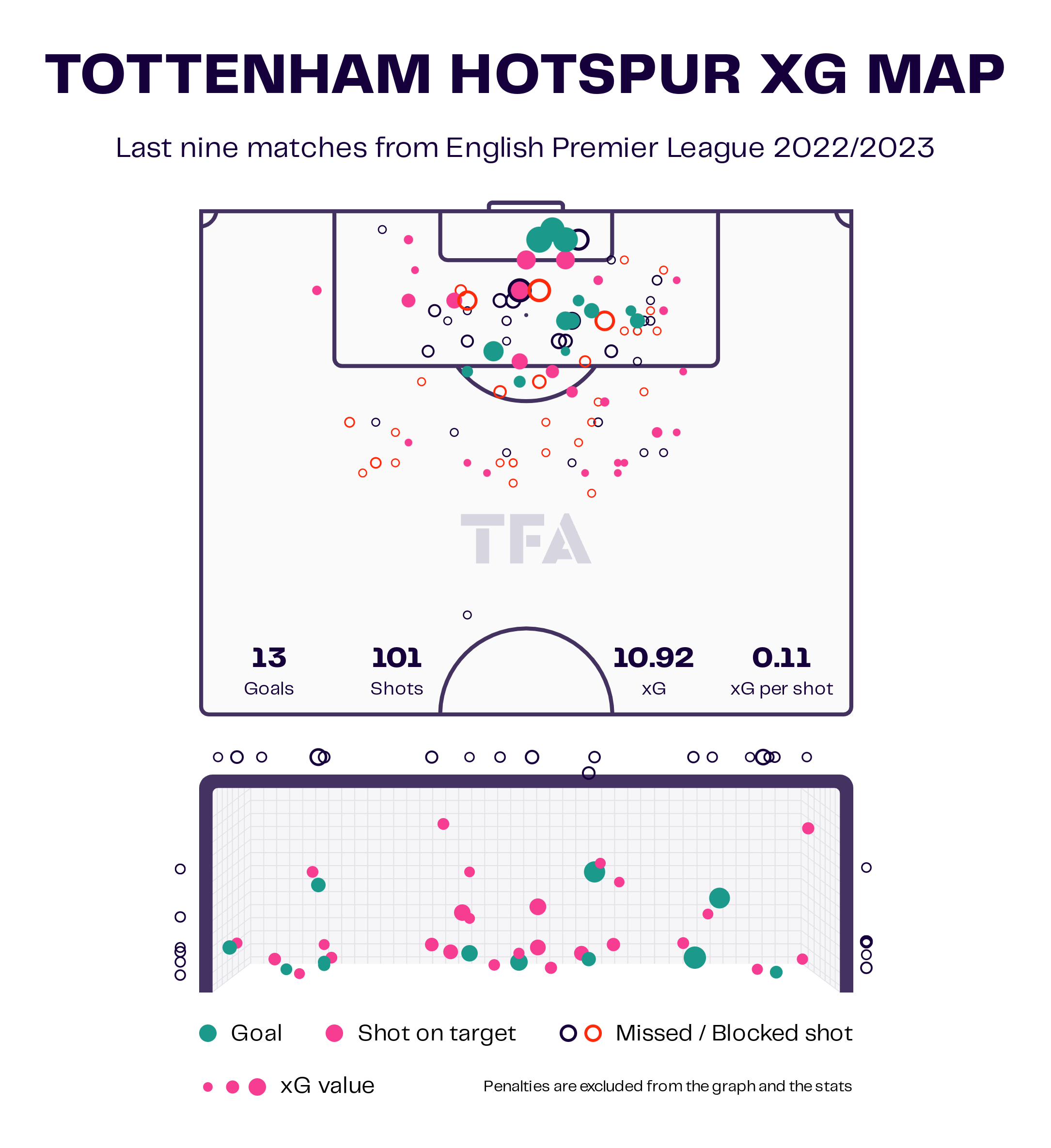 Since their return to action post-World Cup, Tottenham Hotspur have been very inconsistent. Spurs have played nine games during that period and earned 13 points. They have won four, drawn one, and lost four matches. Antonio Conte's men have scored 13 goals during that period and conceded 14. This inconsistency has moved them up and down the table several times over the past match weeks. The xG map above shows that Spurs have scored most of their goals from the right side.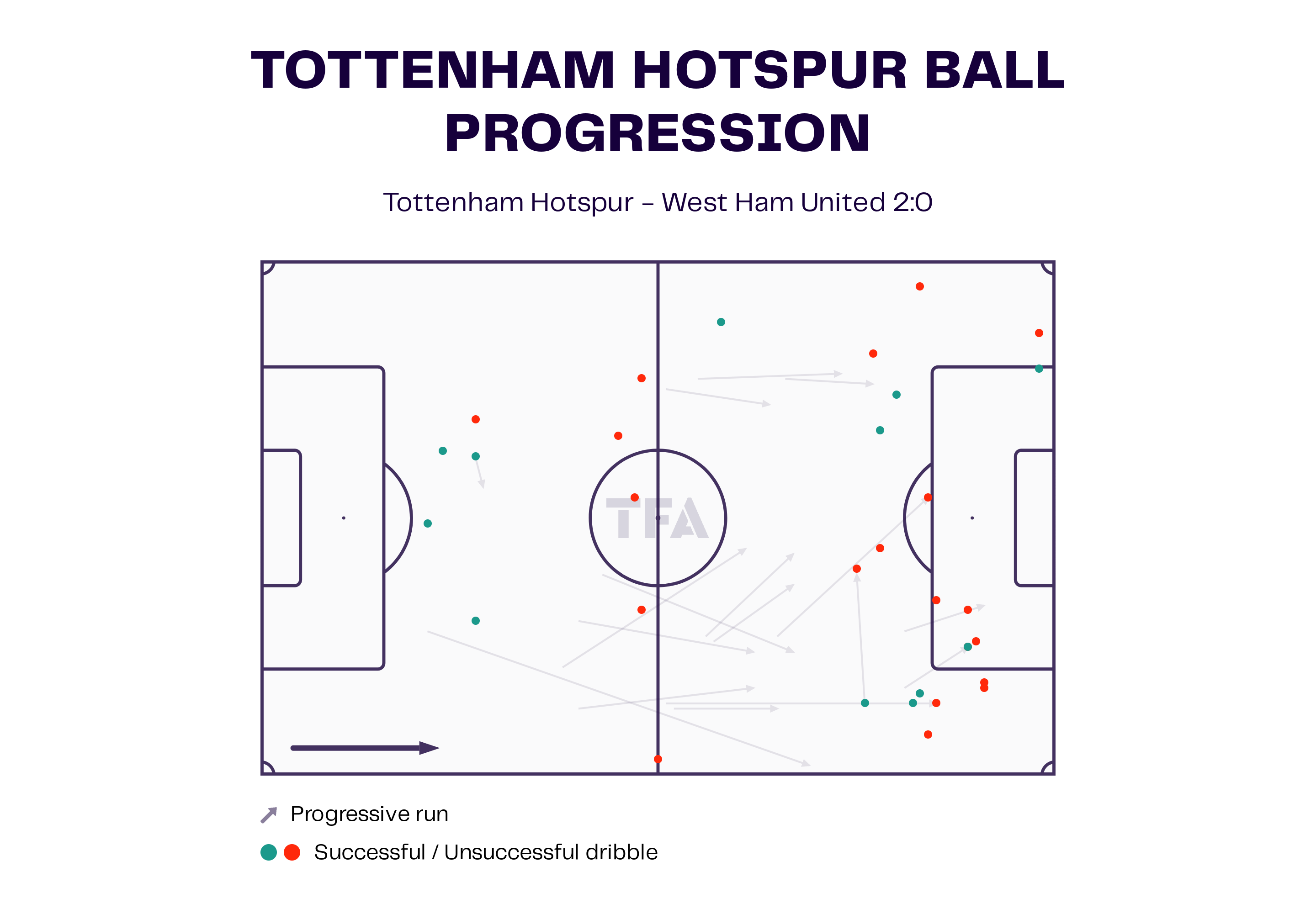 Tottenham Hotspur likes to progress with the ball down the flanks. In their last match, the team made most of the progressive runs from the right side. This is the reason why most of the goals have been scored from that particular side. Spurs need to show some consistency if they want to win this match.
Potter's side struggles to find the back of the net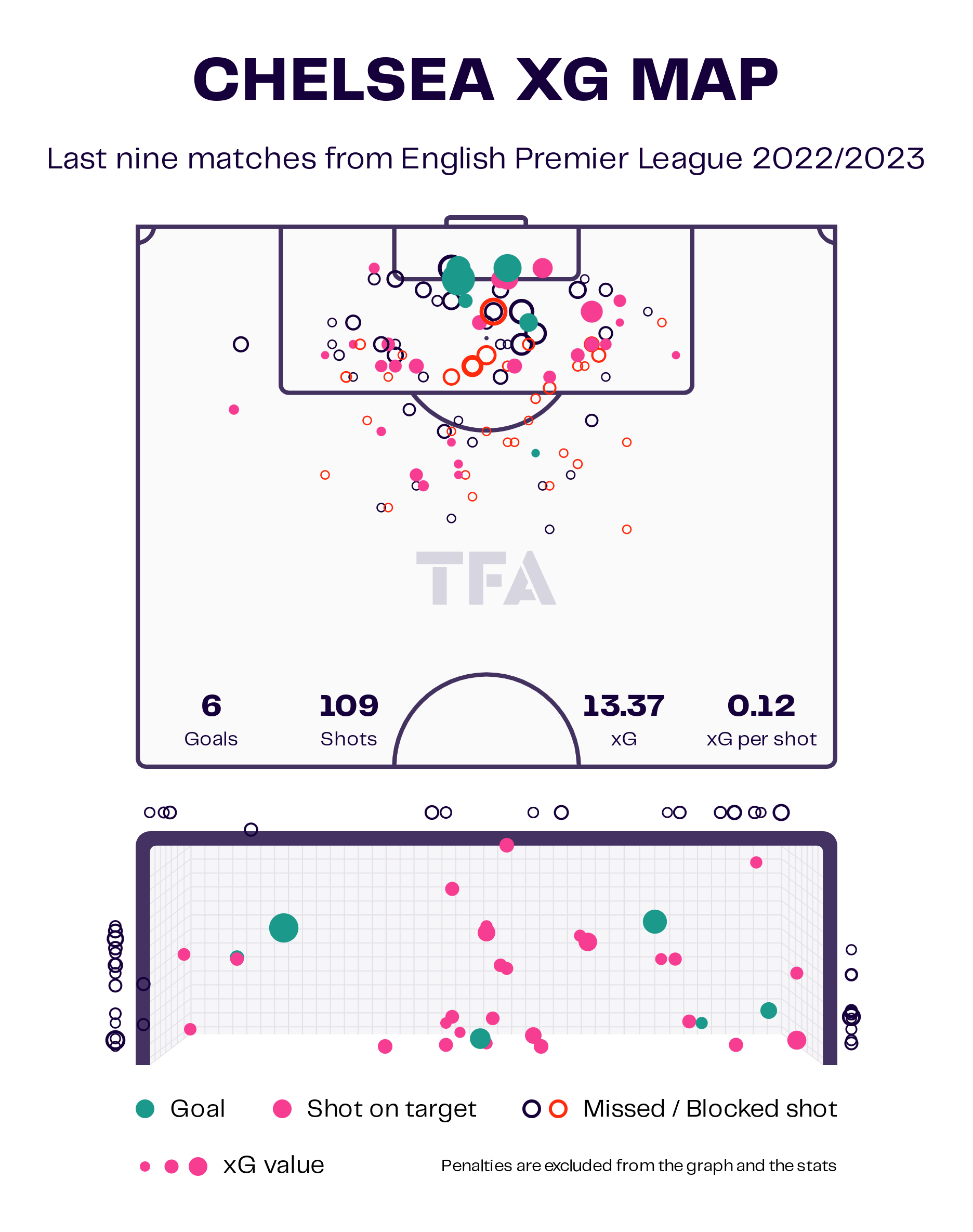 Chelsea have been very poor in front of goal under Graham Potter. They have also played the same number of matches after the World Cup. The Blues have only netted six goals during that period and earned ten points. Chelsea have won two, drawn four, and lost three matches. This poor form in front of the goal is costing them. They have attempted more shots than Spurs in this period, but their inability to find the back of the net hasn't produced results for them. The manager will hope that his new signings keep his side out of trouble.
The Blues have equal quality on both flanks. Spurs' defence has to stay on their toes to prevent Chelsea players from getting past them. In their defeat to Southampton, Chelsea attacked from both sides. Most of their progressive runs came down the left side. Chelsea needs to score goals if they want to move up in the league table. Otherwise, they might finish outside of European places.
Key Players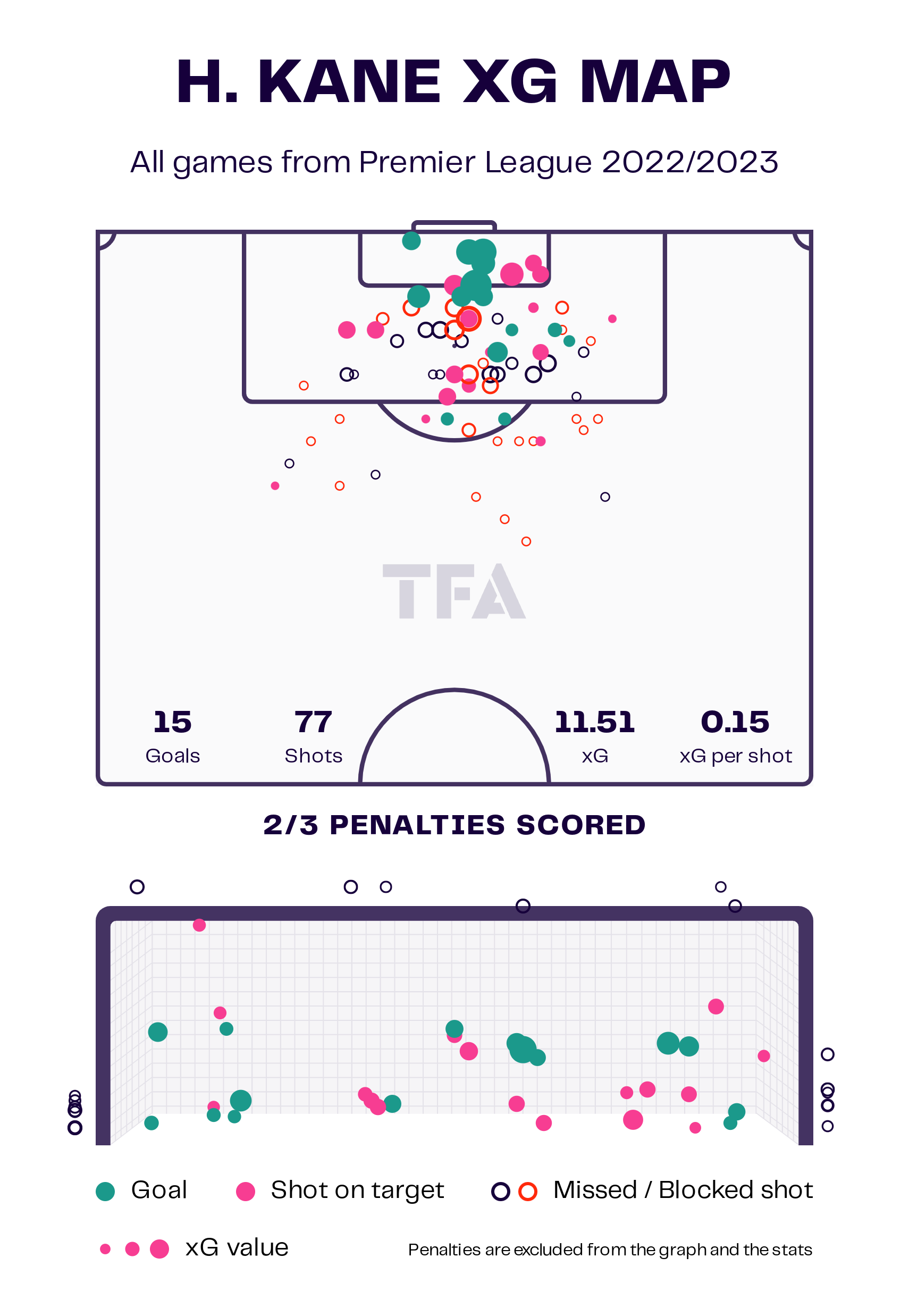 Harry Kane has been Tottenham Hotspur's key player for more than five years. He is their leading goalscorer and has the second-most goals in the English Premier League in 2022–23. The Englishman has netted 17 goals this season in 24 appearances. He averages around three shots per match and is always looking to get on the scoresheet. The 29-year-old hasn't scored a goal in the last two matches. He will be hungry to catch Erling Haaland in the race for the golden boot.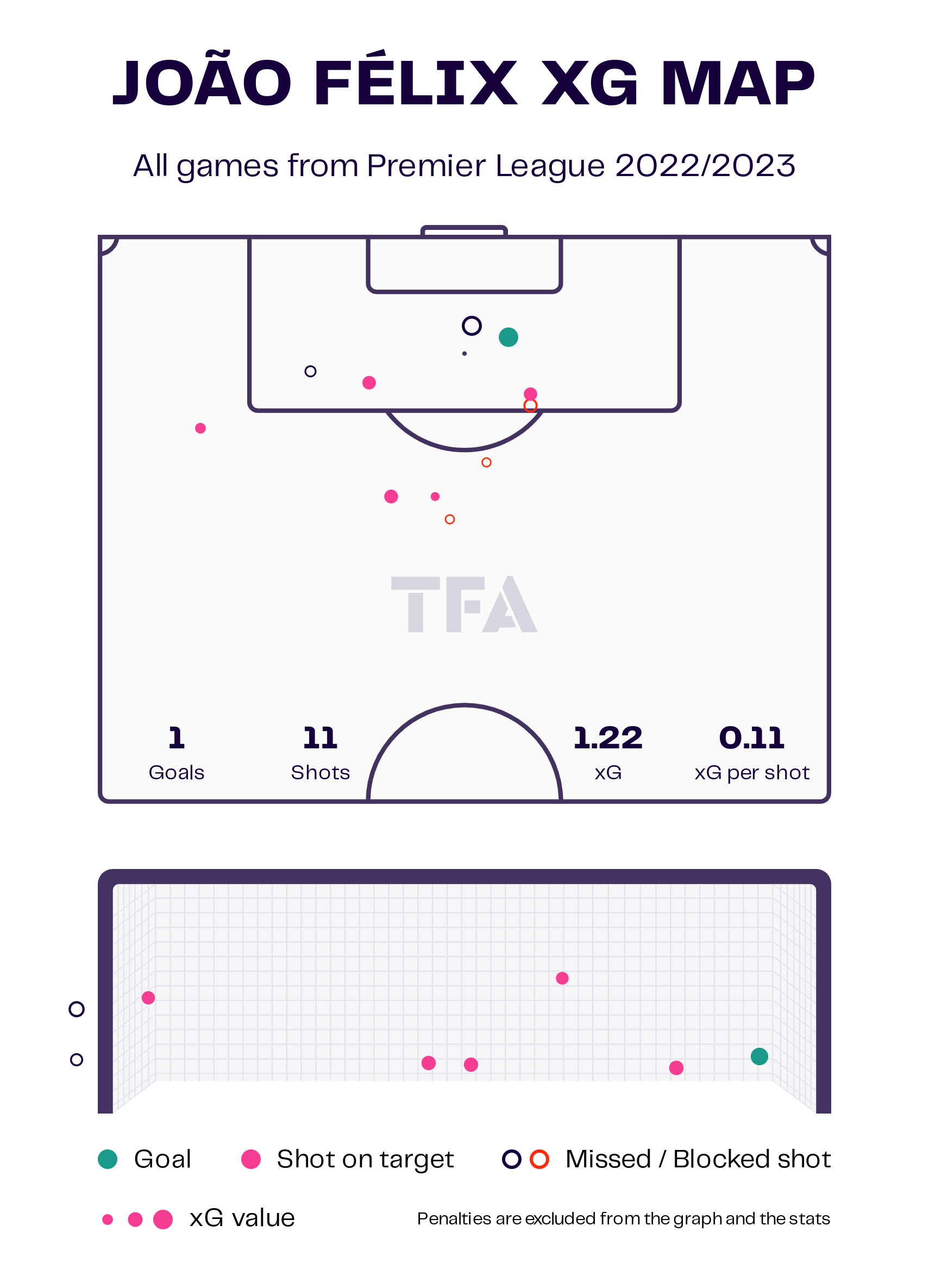 Joao Felix completed a loan move in January. He was sent off in his debut match for the Blues. On his return to action, the Portuguese scored a goal against West Ham United. This is the only goal scored by Chelsea in the English Premier League this month. The Chelsea faithful will hope that the 23-year-old delivers again and takes them out of their misery.
Team news
Rodrigo Bentancur is out for the whole season for Spurs. Their captain, Hugo Lloris is also expected to stay out until the end of March.
Cesar Azpilicueta is expected to miss this match for the Blues.
Betting Analysis
As per the 1×2 betting odds, Spurs are the favourites to win the match. They have winning odds of around 2.55. Chelsea are the second favourite and have odds of 2.9. The odds against a match ending in a draw are around 3.3. Expect this to be a tight game that could go in any team's favour. As for the over/under on goals, the odds rate for over 2.5 goals is around 2.1. This is high due to the failures shown by these teams to score goals.
This is a tough game to predict as both sides have yet to show consistency this season. Antonio Conte's side has shown some positive signs in the past but lacks consistency. Chelsea, on the other hand, are also inconsistent and have struggled more than their London opponents. Graham Potter is under a lot of pressure and will hope that this game goes in his team's favour.
Visuals via TFA data viz engine