Arsenal will look to extend their lead to eight points when they face struggling Crystal Palace in the English Premier League. The Gunners were knocked out of the UEFA Europa League, and now they can only contest for one silverware. Mikel Arteta's men will now focus on the league title and win their sixth game in a row. Crystal Palace have been on a poor run lately and are winless in their last 11 matches. We now look at some of the stats of the teams that could predict the outcome of the match.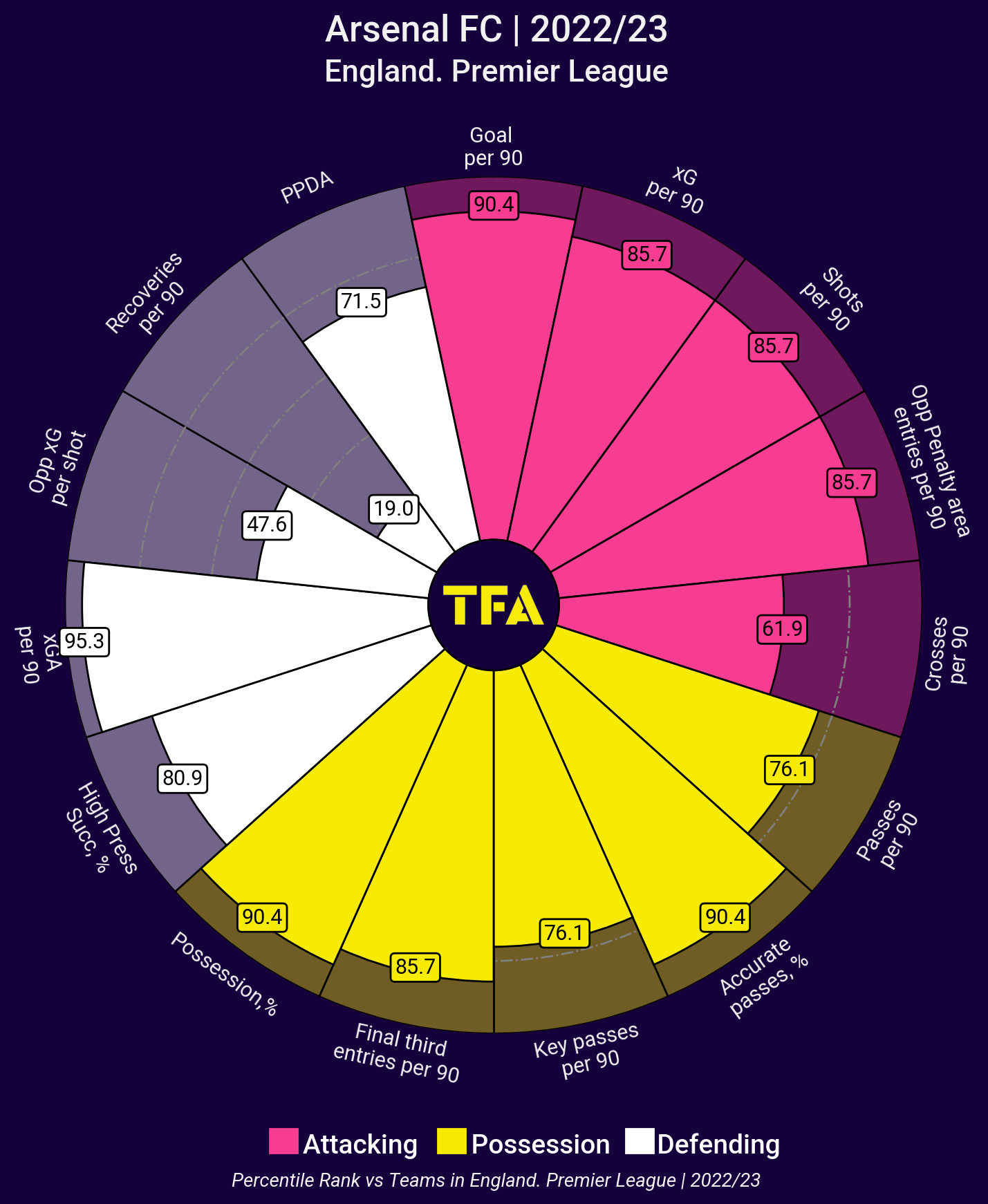 Arsenal have won 21, drawn three, and lost three matches this season. The Gunners are comfortably sitting at the top of the league. Mikel Arteta's men have scored 62 goals and conceded 25. Arsenal have an average xG rate of 1.92 per match. The above pizza chart shows the percentile rank of Arsenal in comparison to other teams in the league. Arsenal have a high percentile rank for attacking and possession stats. Overall, Arsenal have performed well in the current season.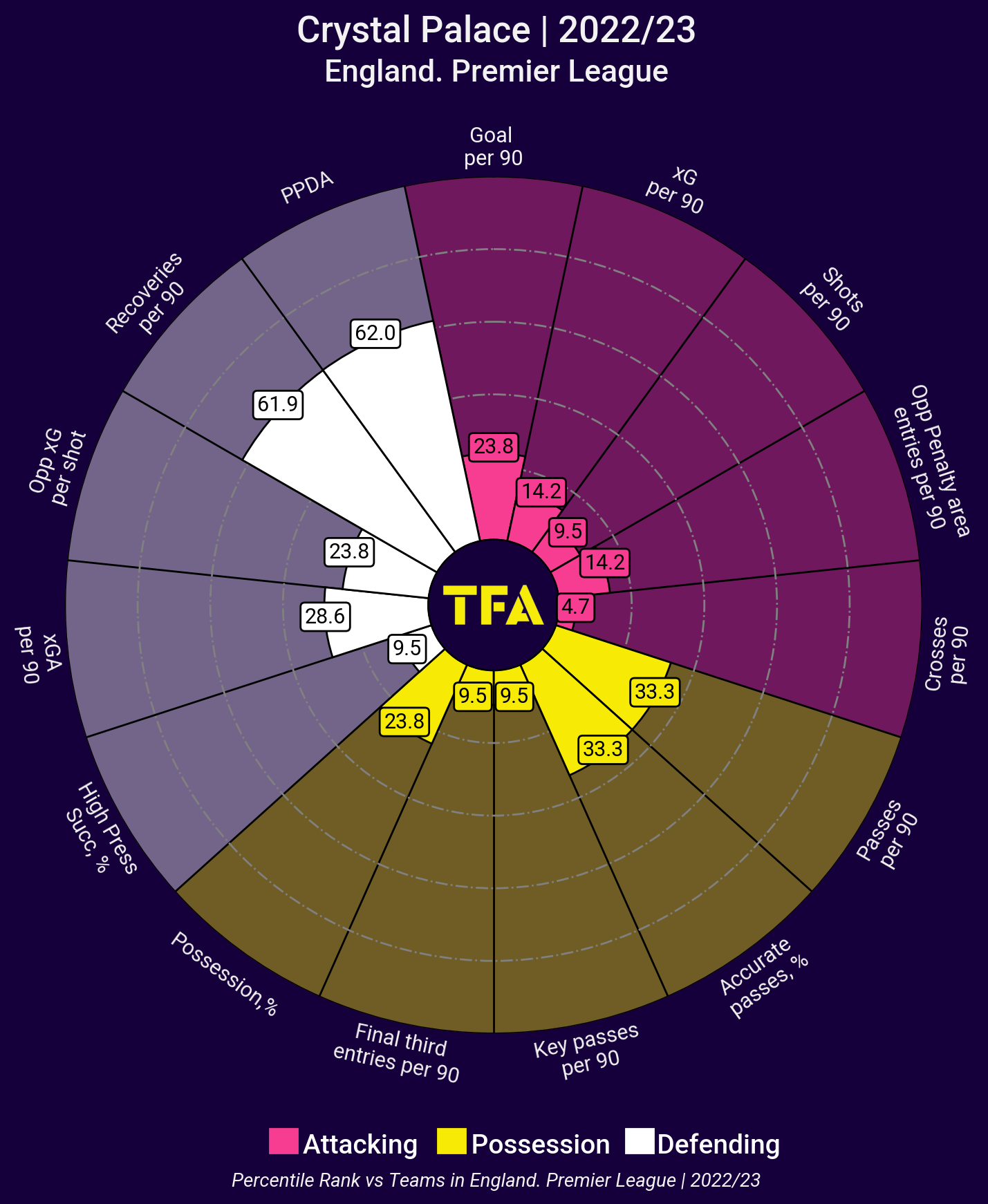 Crystal Palace are sitting in the mid-table and are only three points from safety. They have won six, drawn nine, and lost 12 matches this season. The team is on a three-match losing streak. Palace have scored 21 goals and conceded 34. They have an average xG rate of 1.02. Crystal Palace have a very low percentile rank and are struggling in the attack as well as in defence.
Arsenal's domination in the last London Derby
Arsenal faced Fulham in their previous league match. The Gunners registered a 3-0 win and all goals were scored in the first half. Arsenal created 27 positional attacks and two counterattacks. They attempted 15 shots with a 46.67% accuracy rate. Arsenal created most of the positional attacks from the right side but were ineffective as they couldn't attempt a shot from these attacks.
Overall, the Gunners create 35.89 positional attacks and 1.63 counterattacks per match. They attempt 14.93 shots and have a 35.7% accuracy rate.
Gunners recovering the ball in dangerous areas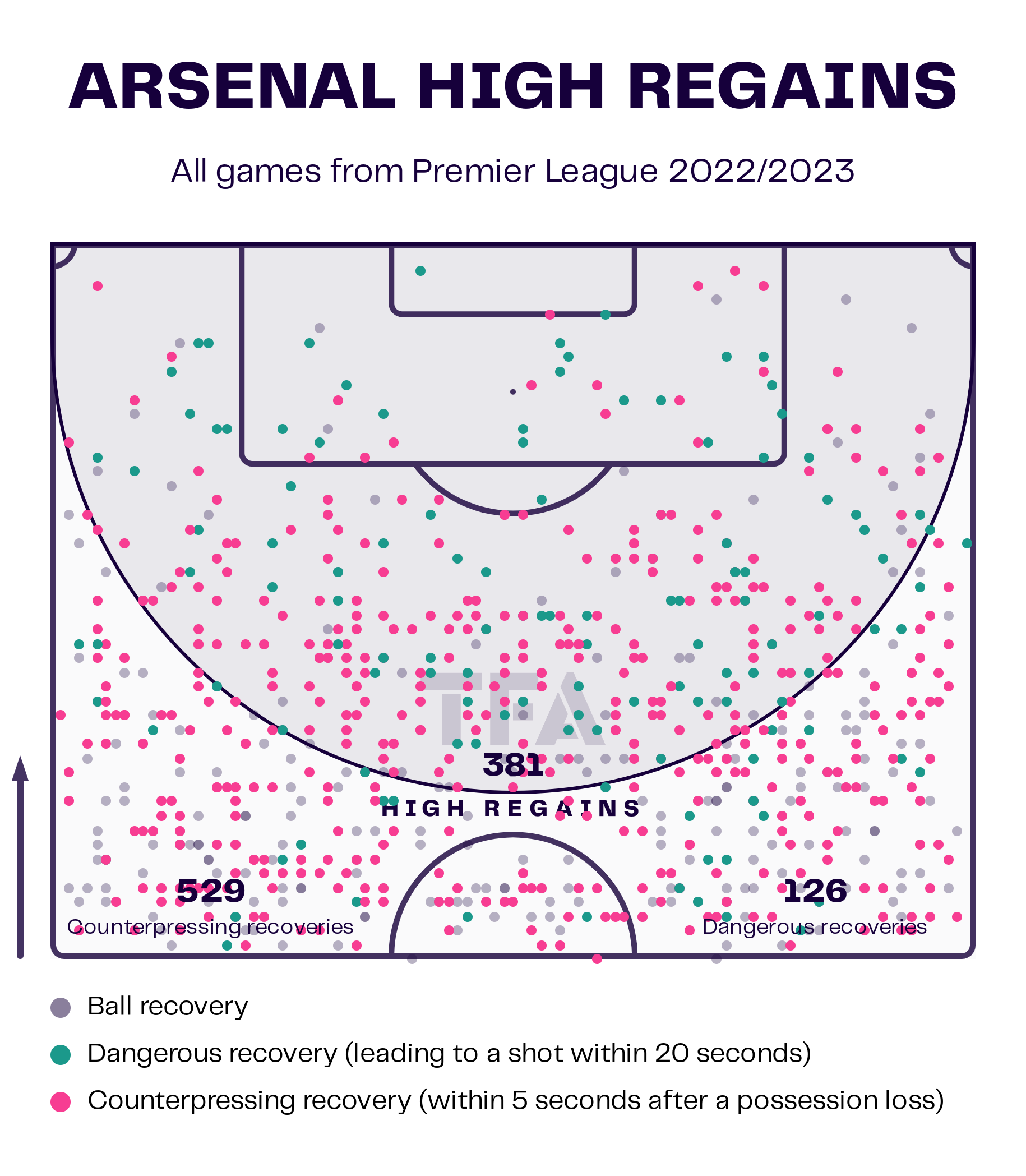 Arsenal likes to stay high up on the field and put pressure on their opponents. This has allowed them to make high regains in the league. They average 85.41 recoveries per match. By looking at the above viz, we can observe that Arsenal have made 529 counter-pressing recoveries and 126 dangerous recoveries. We can also see that most of the dangerous recoveries have been made inside and outside the opposition's penalty box. Crystal Palace will sit at the back, and Arsenal will have a chance to make these recoveries.
Crystal Palace struggles in the last 11 games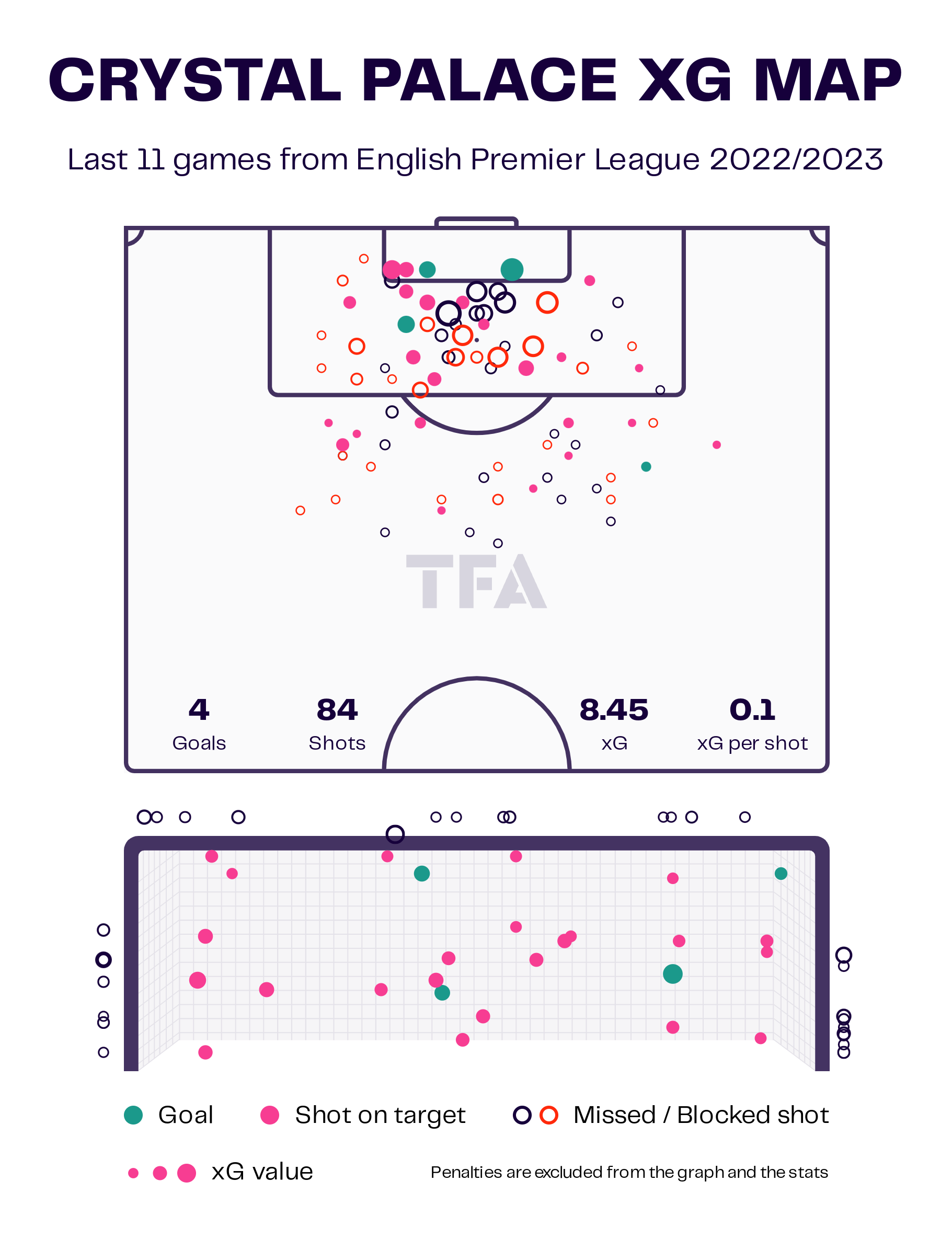 Crystal Palace have struggled in the last 11 games and have only earned five points. The Eagles average 0.78 goals per match and in the last 11 matches, they have only averaged 0.36 goals.
Palace average 23.07 positional attacks and 1.44 counterattacks per match. They take 9.22 shots and have a 33.33% accuracy rate. In the last 11 matches, the average number of shots is below eight. Patrick Vieira's men have failed to create chances and this has left them just three points away from safety.
Key players
Leandro Trossard has been a good signing for Arsenal. The Belgian has provided five assists for his team after joining in January. Trossard was instrumental in Arsenal's 3-0 win over Fulham as he provided three assists in the game. Mikel Arteta will rely on the current form of the forward.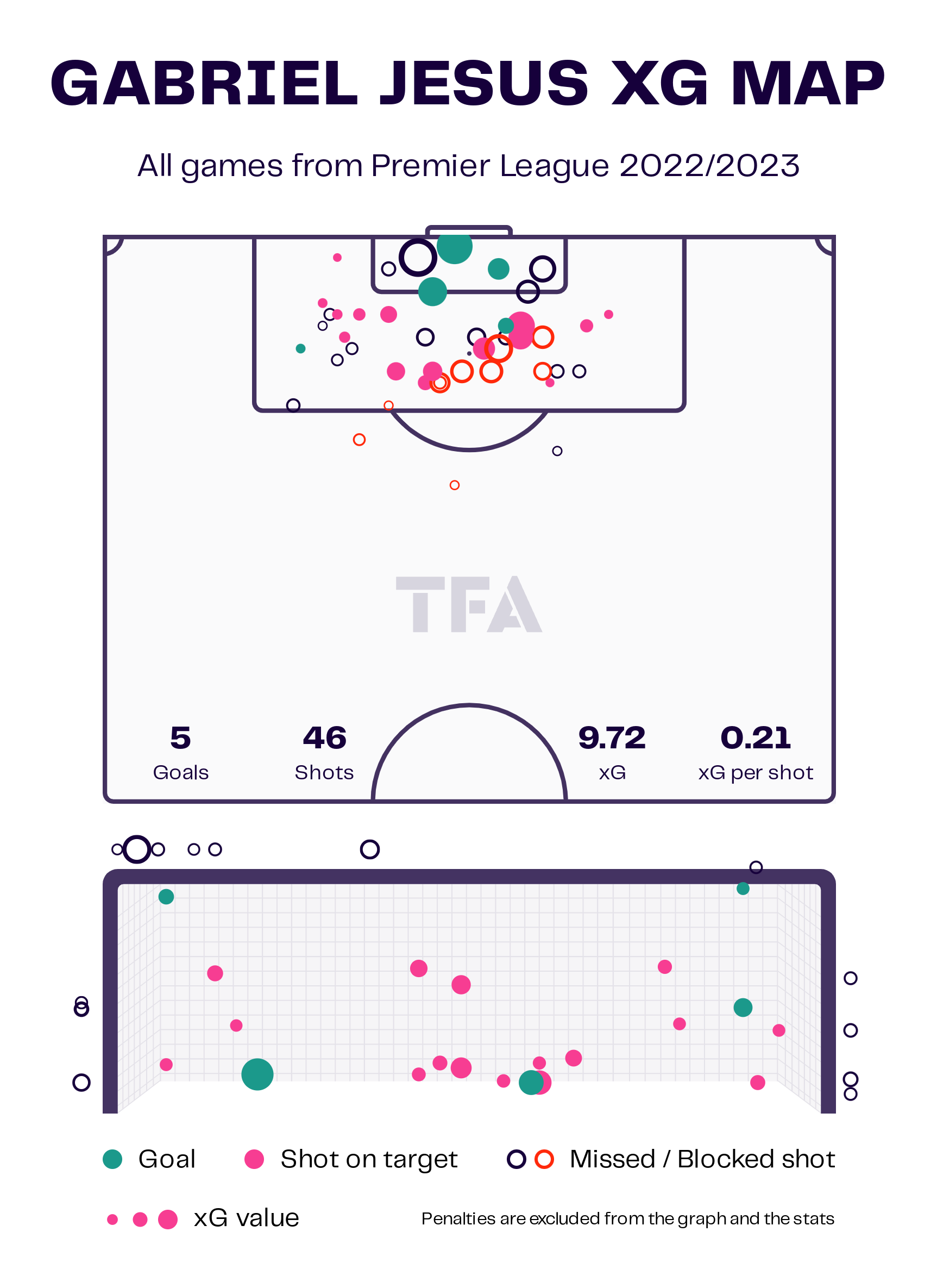 Gabriel Jesus has returned from injury and this is a major boost for Arsenal. The 25-year-old has five goals and five assists to his name in 15 league games. He has missed 12 games and will now look to contribute to Arsenal's run for the title.
Team news
William Saliba and Takehiro Tomiyasu made first-half exits in the Europa League match due to injuries. The defensive duo might miss this home match.
Vicente Guaita will be absent in the goal for the Eagles.
Betting analysis
As per the 1×2 betting odds, Arsenal are the hot favourites to take three points from this fixture. They have an odds rate of around 1.28 to win the match. Crystal Palace have an odds rate of around 12.55 to win the match. As per the over/under lines, the over lines are expected to thrive as Arsenal likes to score goals and Crystal Palace have been struggling recently.
Arsenal will look to make it six wins in a row and put pressure on the defending champions. They have some tough fixtures coming up and cannot afford to lose these matches. Mikel Arteta will expect his side to give their best in this match. Crystal Palace are struggling and it will be difficult for them to cause an upset.
Visuals via Wyscout and the TFA data viz engine