The English Premier League 2022/23 season is getting exciting as Arsenal and Manchester City battle for the title. Manchester United are just behind them, waiting for their rivals to slip up and give them a chance to go up. The race for the top three is set, as these three teams are the favourites to finish first, second, and third, respectively. This means only one spot is left in the qualification for the UEFA Champions League 2023–24 season. Newcastle United and Tottenham Hotspur have been in the mix of things. Recently, Spurs have shown some good form, especially at home, and that has taken them into the top four. Antonio Conte's men are growing in confidence. Now we look at some of the stats from the recent matches that show how Spurs have boosted their chances of playing in Europe next season.
Tottenham Hotspur have been the third-best team at home this season. They have won nine and lost four matches. Conte's men have won their last three matches at home, and these results have boosted the confidence of the team. Spurs earned a narrow 1-0 victory over Manchester City. That was followed by a 2-0 hammering of West Ham United, and their recent victory was also by the same scoreline against Chelsea. These nine points could turn out to be crucial towards the end of the season.
Clinical in their finishing
Tottenham Hotspur averages 1.84 goals per match this season. Their average goals at home are two per match. In the last three home matches, Spurs have scored five goals. Spurs have been clinical with their finishing in these matches. They averaged 10.67 shots and had a 37.5% accuracy rate. Of the five goals scored, four came from inside the penalty box, and one was a screamer scored by Oliver Skipp from outside the box against Chelsea. Conte's men haven't been able to take a lot of shots from inside the box. However, they have found space to net a few goals that have produced results for them.
Spurs have also created a bit of a threat on the counterattacks. Against Manchester City, the team from North London created five counterattacks. These were followed by five more against West Ham United and three against Chelsea. Tottenham Hotspur players only attempted three shots combined from these 13 attacks, but these attacks always created a threat in their opponents' minds.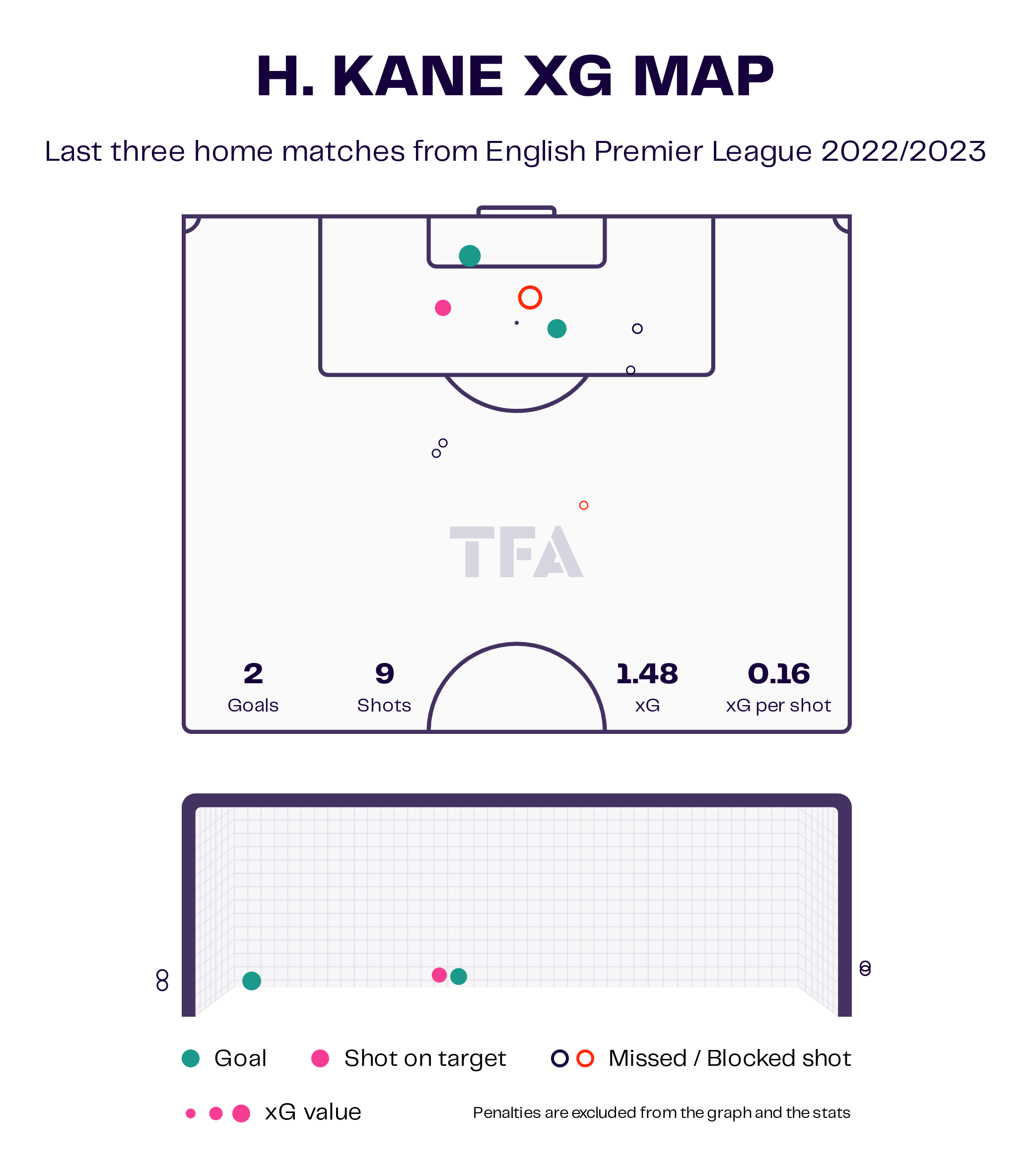 Tottenham Hotspur captain Harry Kane has played a part in their success in these three matches. The Englishman netted two goals and created one. He has attempted nine shots and has a 33.33% shot accuracy rate. The 29-year-old has 18 goals to his name in the current season. He will be eyeing at least 10–15 more goals in the remaining matches.
Sturdy defence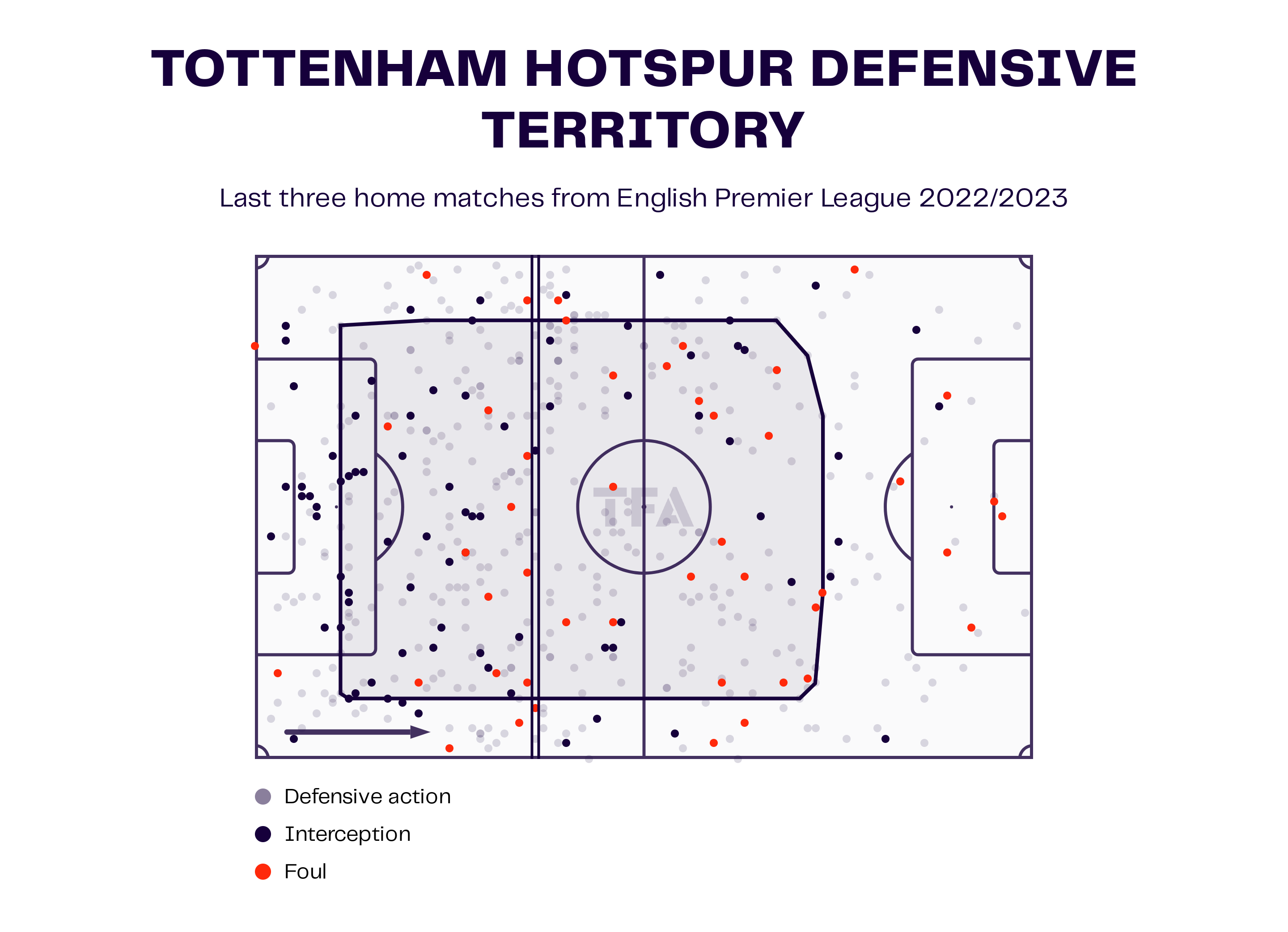 Antonio Conte's men have shown massive improvements in their defensive stats. After conceding 15 goals in the first ten home matches, they have kept three clean sheets in their last three matches. Their defence has made more interceptions and committed more fouls to keep this clean sheet. The above viz shows that Spurs players have committed a few fouls in the defensive third. A few of these fouls have been made just outside the penalty box. However, they have defended their goal by averaging just above 50 interceptions in these three matches.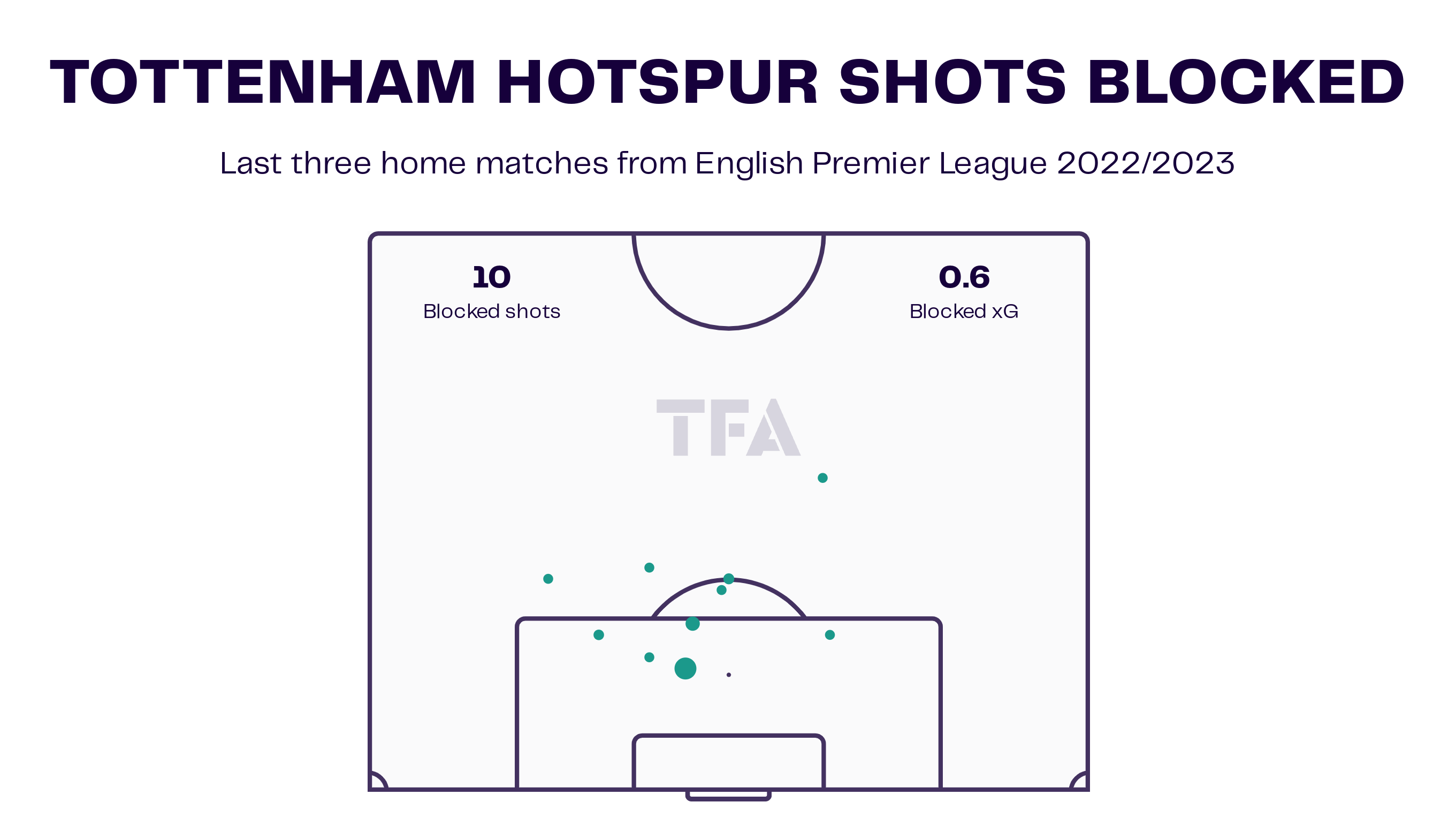 Along with these interceptions, the team has made ten blocks to stop the opposition from scoring. Most of these blocks came on the left side. The players have put their bodies on the line and secured three clean sheets. Conte will expect his team to show the same kind of form in the coming matches.
Betting analysis
According to the 1×2 betting odds, Spurs had a high odds win rate against these three teams. Manchester City were the clear favourites to win their match. Spurs produced some unexpected results and most of the betting odds went in their favour.
Tottenham Hotspur have shown a lot of improvements in recent matches. They have found ways to get the results. The race for the top four is becoming interesting as a few teams are fighting for playing in Europe. Spurs face Nottingham Forest in their next home match and will look to make it four wins in four.
Visuals via TFA data viz engine