Fulham and Tottenham Hotspur will face each other in the last fixture of gameweek 21 in the English Premier League. This will be a London Derby between two clubs that have different ambitions this season. Both teams enter this match after disappointing losses in their last matches. Spurs came out as 2-1 winners in the reverse fixture. Fulham will look to avenge their loss in this match.
Fulham have won nine, drawn four, and lost seven matches this season. The Cottagers suffered a 1-0 defeat in their last game against Newcastle United. This ended their four-match winning streak in the English Premier League. They have performed well since returning to the top division and have scored 32 goals with an average xG rate of 1.54. The defence has conceded 29 goals with a high average xGA rate of 1.99. At home, Fulham have five wins, three draws, and two losses. They have scored 18 goals and conceded 15. The average xG rate at home is a bit high at 1.75, and the xGA rate is also high at 2.06.
Tottenham Hotspur, on the other hand, have ten wins, three draws, and seven losses. They suffered a 4-2 loss against Manchester City in the previous match. Antonio Conte's men have netted 39 and conceded 31. Their average xG rate is 1.62, and the average xGA rate is 1.28. On their travels, Spurs have won four, drawn three, and lost three matches. They have scored 18 and conceded 16 in total. The average xG rate in away fixtures is lower than the average at 1.44, and xGA is high at 1.51.
We will now have a look at some of the other stats that could predict the outcome of the match.
The overview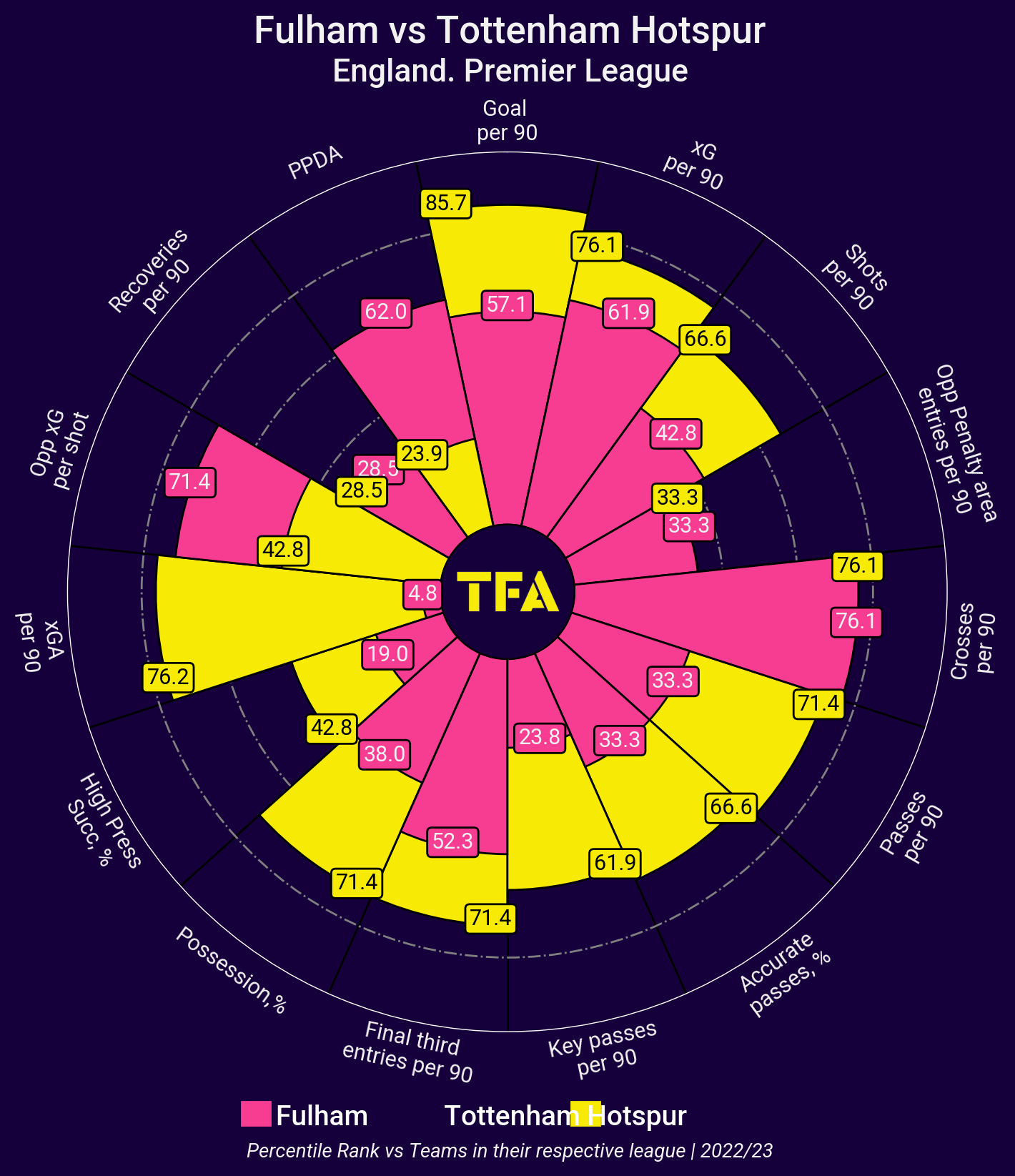 Both teams are sitting in the top half of the English Premier League table. Tottenham Hotspur looks to qualify for the UEFA Champions League, while their opponents are looking to extend their stay in the Premier League. The above viz shows the percentile rank of the two teams in comparison to each other and with the other teams in the league. It can be observed that Spurs have been more dominant than Fulham. They have kept more possession throughout the matches and are also better in the attacking and defensive stats. Fulham have performed decently but have failed to get the better of Spurs in almost every stat mentioned above. This shows that Tottenham Hotspur would have the edge over the Cottagers in this match.
Failures at Newcastle and disappointing result at City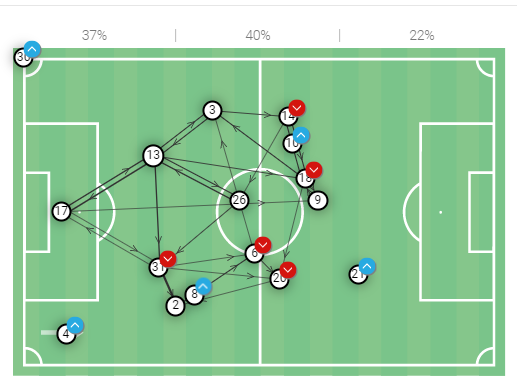 Fulham had a disappointing outing against Newcastle United in their previous match. They lost 1-0 and struggled in almost every department. The team averages 47.5% possession on average, but against the Magpies, it was down at 36.36%. They created 18 positional attacks, which was way below their average of 28.05 attacks per match. The team also failed to take many shots. Only five shots were attempted, with a 20% accuracy rate. They average 10.8 shots per match this season and have an accuracy rate of 38%. The above viz shows that Fulham created most of their channel of plays on the left side. With Antonee Robinson returning, the team will look to run down the left flank in the match against Spurs.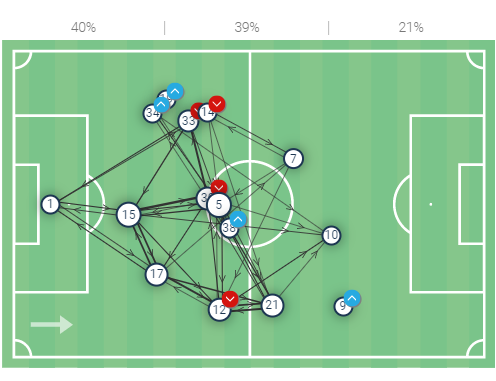 Antonio Conte's men surrendered a two-goal lead against Manchester City and suffered a 4-2 defeat against the defending champions. They were leading 2-0 in the first half, but City's attack proved too much for Tottenham Hotspur's defence. They were also below average in the number of attacks they created per match. Spurs created 18 positional attacks and attempted eight shots, with three going on target in the match. They average 27.75 positional attacks and 13 shots per match this season. The defensive attributes were also poor, as Spurs only won 42.03% of their defensive duels and 43.75% of their aerial duels. They have won 60.9 % of defensive duels and 49.7% of their aerial duels on average in the league. The above viz shows the average position of the players in their last match. Son and Kulusevski ran down the flanks, while Harry Kane was in the centre.
Key Players
Both teams have heavily relied on their number nine to score goals this season. Aleksander Mitrovic is finally making his mark in the English Premier League, while Harry Kane is adding more goals to his overall tally.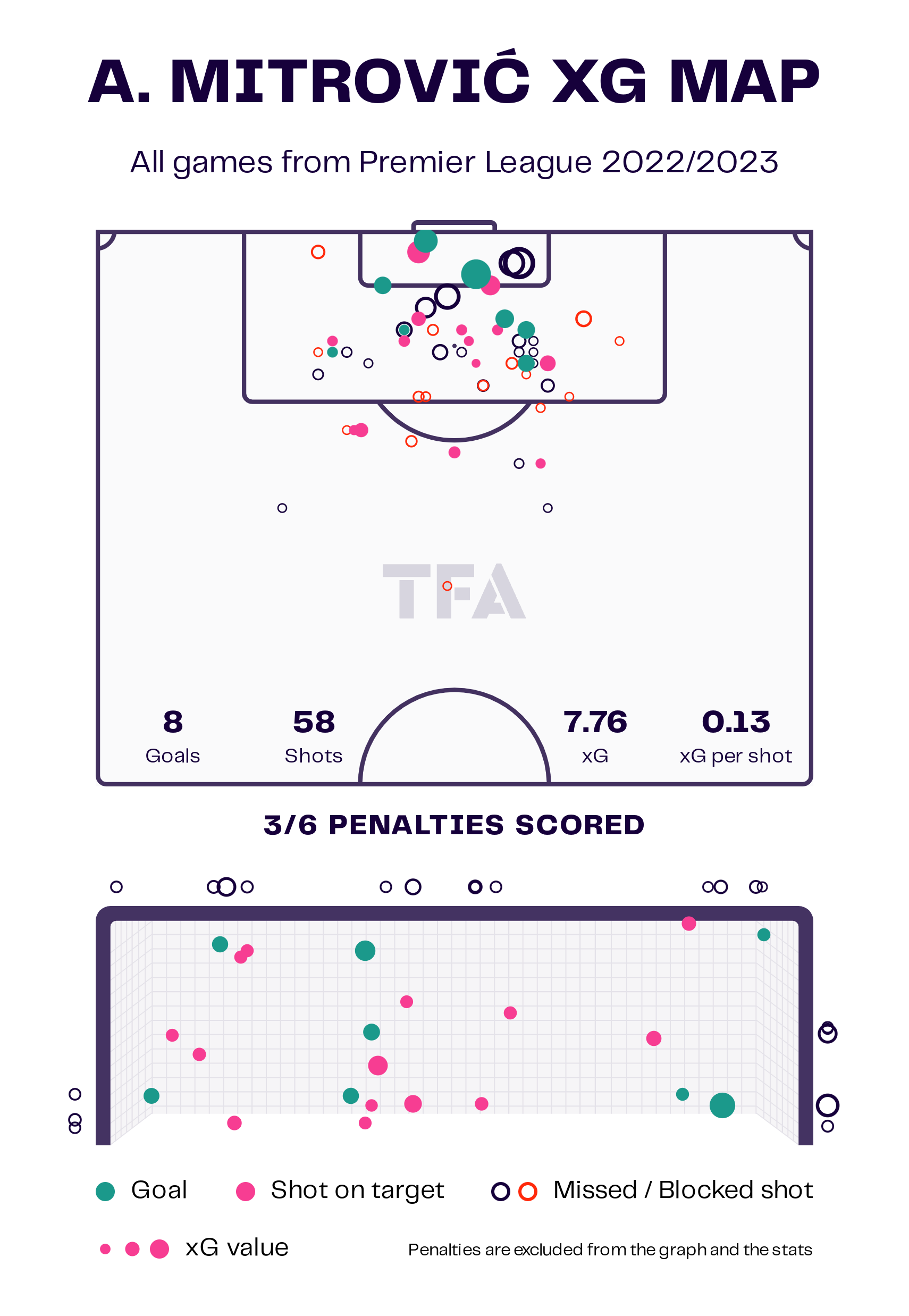 Aleksander Mitrovic has recorded 11 goals in 16 appearances this season and also has an assist to his name. The striker has scored 1/3 of his team's goals in the league. The above viz shows that all goals have come from inside the opposition's penalty box, with a few coming from inside the opposition's six-yard box. He could have scored more goals, but the player missed three penalties.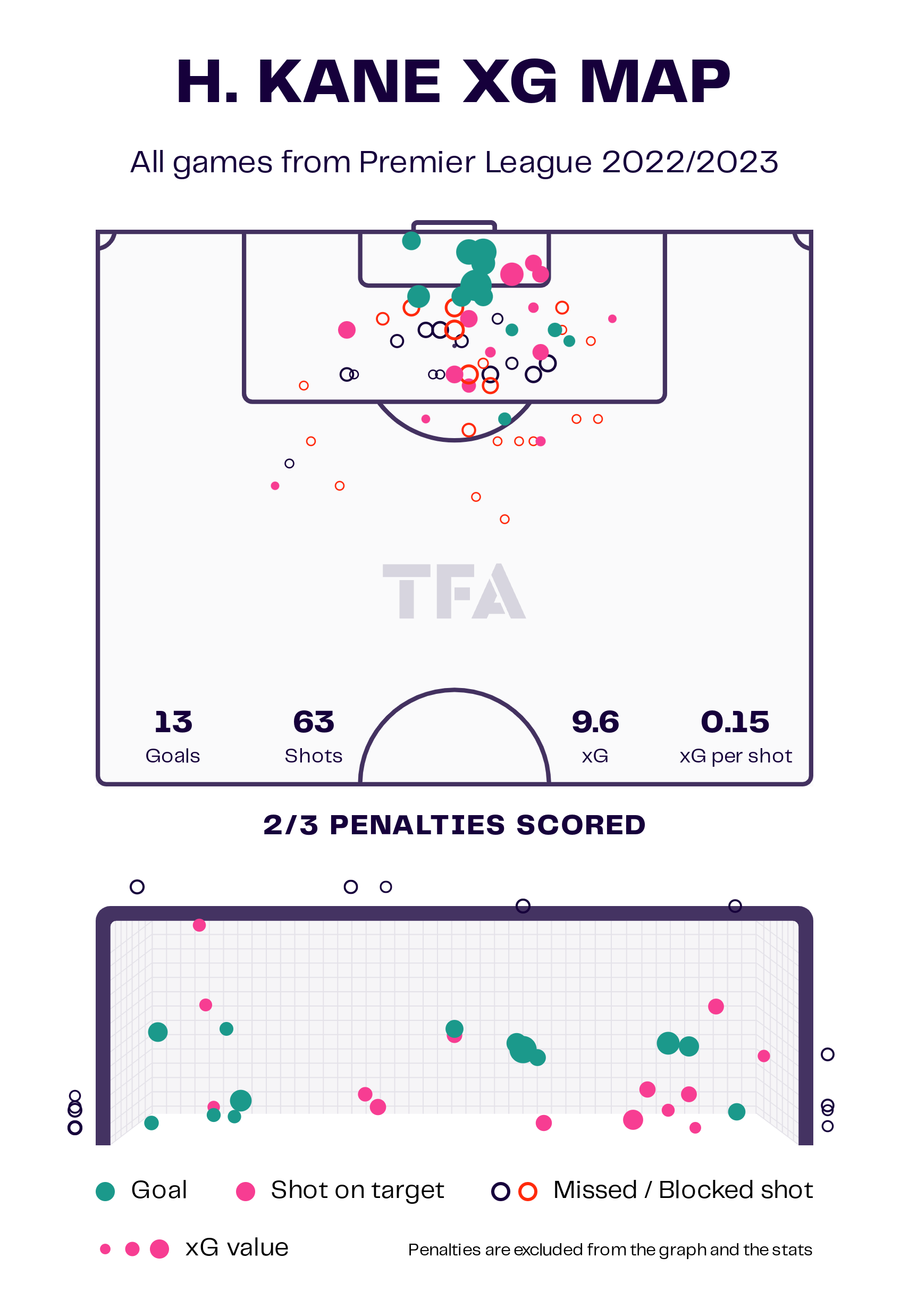 Harry Kane has been Spurs' top performer in recent seasons. He has scored 15 goals in 20 league appearances for Spurs. Harry Kane has scored three goals in five league appearances since the World Cup and will be hungry to catch Erling Haaland in the race for the Golden Boot. Kane also scores his goals primarily from inside the opposition penalty box. He has found spaces more often inside the opposition's six-yard box and has always made the keeper work from these chances.
Both players will look to get on the scoreboard and help their side return to winning ways. They scored a goal each in the reverse fixture.
Team news
Antonee Robinson will return to the picture after missing the last match due to suspension. Fulham have no new injury concerns.
Richarlison could return to the starting lineup for Spurs in this crucial match. Lucas Moura and Bryan Gil are expected to miss this match.
Betting Analysis
The 1×2 odds favour Tottenham Hotspur, and they have odds of around 2.1. The reason behind their high odd rate is the current form of Spurs. They have lost their last two matches. Fulham have odds ranging around 3.25. They have won four of the last five matches and are difficult to beat at home. For over/under rates, the odds are at 1.73 for over 2.5 goals. Spurs average around two goals per match, and Fulham averages above 1.5 goals per match. This is the reason why the rate is low for over 2.5 goals. Spurs could end up as the likely winners.
Tottenham Hotspur will go as the favourites against Fulham. They have lost their last two matches and will be eyeing three points. However, it would be a tough job against this Fulham side, as they are a tough team to beat at home. Antonio Conte's men will have to stay at the top of their game in this match.
Visuals via Wyscout and the TFA data viz engine