Chelsea and Manchester City go head-to-head in one of the biggest matches in match week 19 of the English Premier League. The hosts are struggling to find consistency under Graham Potter and sit tenth in the league table. Manchester City, on the other hand, are dropping points, and this is widening the gap between them and the league leaders, Arsenal. Both teams have big ambitions this season, and they need a shift in momentum if they want to achieve success in the latter part of the season.
Chelsea sits tenth in the league table with seven wins, four draws, and five losses. They played a disappointing 1-1 draw away at Nottingham Forest in their last match. The Blues have netted only 20 goals and average 1.31 xG per match. Their defence has conceded 18 goals with an average xGA of 1.46. Chelsea have only scored five goals in the last seven matches.
Manchester City, on the other hand, now sit eight points behind the Gunners but have a game in hand. Pep's men have won 11, drawn three, and lost two matches this season. They also enter this match after a disappointing 1-1 draw at home against Everton. Manchester City are the top goal scorers in the league with 44 goals and have conceded 16 in total. Their average xG rate is high at 2.22, and the xGA rate is at 0.86. The visitors have dropped five points in the last three matches.
We now look at some of the stats that could predict the outcome of the match.
How has the season gone so far?
Manchester City are the top performers in the league when it comes to scoring goals. Pep's men like to stay on the front foot. The above viz shows the percentile rank of both teams in comparison to each other as well as to other teams in the English Premier League. It can be observed that Manchester City have the edge over Chelsea in all departments. The visitors have been a goal-scoring side, while Chelsea have struggled to find momentum in the attack. Their passing stats also dominate Chelsea's passing stats. This season, City has averaged 66.64% possession per match, while Chelsea has 54.29%.
Chelsea averages 31.31 positional attacks and two counterattacks per match. They take 10.25 shots with a 36% accuracy rate. The Blues create 30.14 positional attacks and 2.43 counterattacks per match at home. They take 10.14 shots with an accuracy rate of 32.4%.
Manchester City, on the other hand, average 36.6 positional attacks and 2.13 counterattacks per match. They take 16.75 shots and have an accuracy rate of 36.6%. On their travels, City creates 36.4 positional attacks and 1.57 counterattacks and takes 15.7 shots.
This shows that both teams can hit each other on the counterattack, and both managers will keep these things in mind and play their side accordingly.
Key Players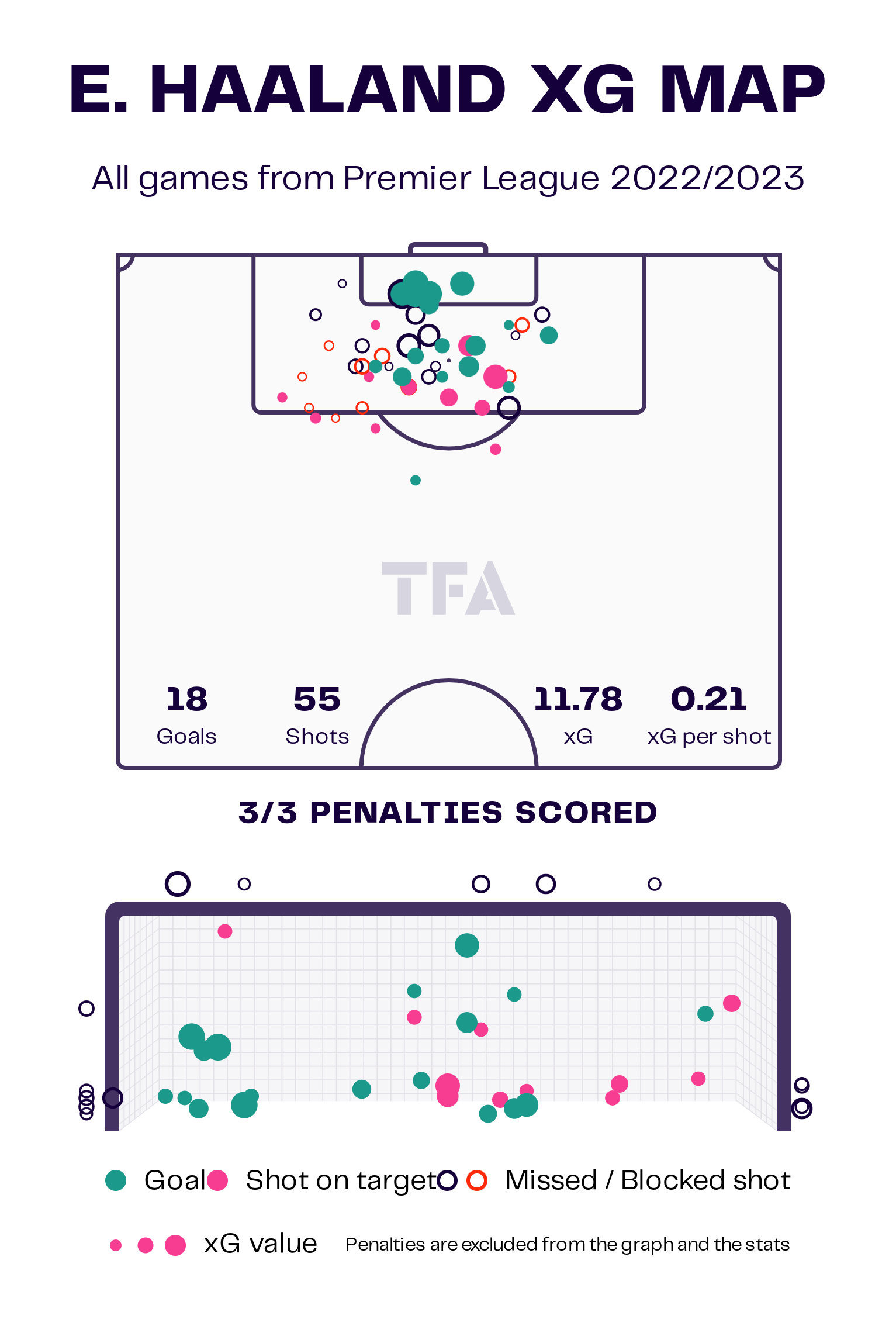 Erling Haaland is turning out to be one of the best strikers in the world. He has scored 21 goals this season and averages more than three shots per match. Chelsea's defence has leaked a few goals this season, and Haaland will be hungry to add a few more goals to his tally. He will be the main threat to Chelsea's defence.
Thiago Silva is maturing like a fine wine in the Chelsea jersey. The veteran centre-back plays in the heart of Chelsea's defence and has given some big performances. He also has two assists to his name. The above viz shows that Silva has made a few interceptions inside his team's penalty box. He will need to stay at the top of his game to stop Haaland from scoring. The experienced centre-back will be key in stopping Haaland from scoring a goal.
Team news
Chelsea have no new injury concerns. Graham Potter stuck with the same team in the last match. He might make a few changes in the attack and the midfield for this match. Mateo Kovacic is likely to return to the starting lineup.
Manchester City also does not have any new injury concerns. Aymeric Laporte and Ruben Dias will be out for a few weeks.
Manchester City are the favourites to win this match. However, it won't be an easy task for them, as Chelsea themselves cannot afford to drop points. This fixture is set to have plenty of drama and could offer goals. Expect a high-intensity contest between both teams.
Visuals via TFA data viz engine