Brighton & Hove Albion made a positive start to the season under Graham Potter. They were in contention to play in Europe but received a huge setback when their manager left for Chelsea. Roberto De Zerbi was signed as his replacement, and the manager hasn't lowered their standard. Brighton are still in contention to play in Europe. In the winter transfer window, they received another setback when Leandro Trossard left for Arsenal. Brighton had a few talented players to replace him on a regular basis. Kaoru Mitoma stepped up to the occasion and is proving to be a key part of the Seagulls' set-up. The Japanese international was signed by Brighton last season, and this is his first season at the club. We now look at some of the stats from the recent season that show how the 25-year-old has impacted his debut season in the English Premier League.
A creative left-forward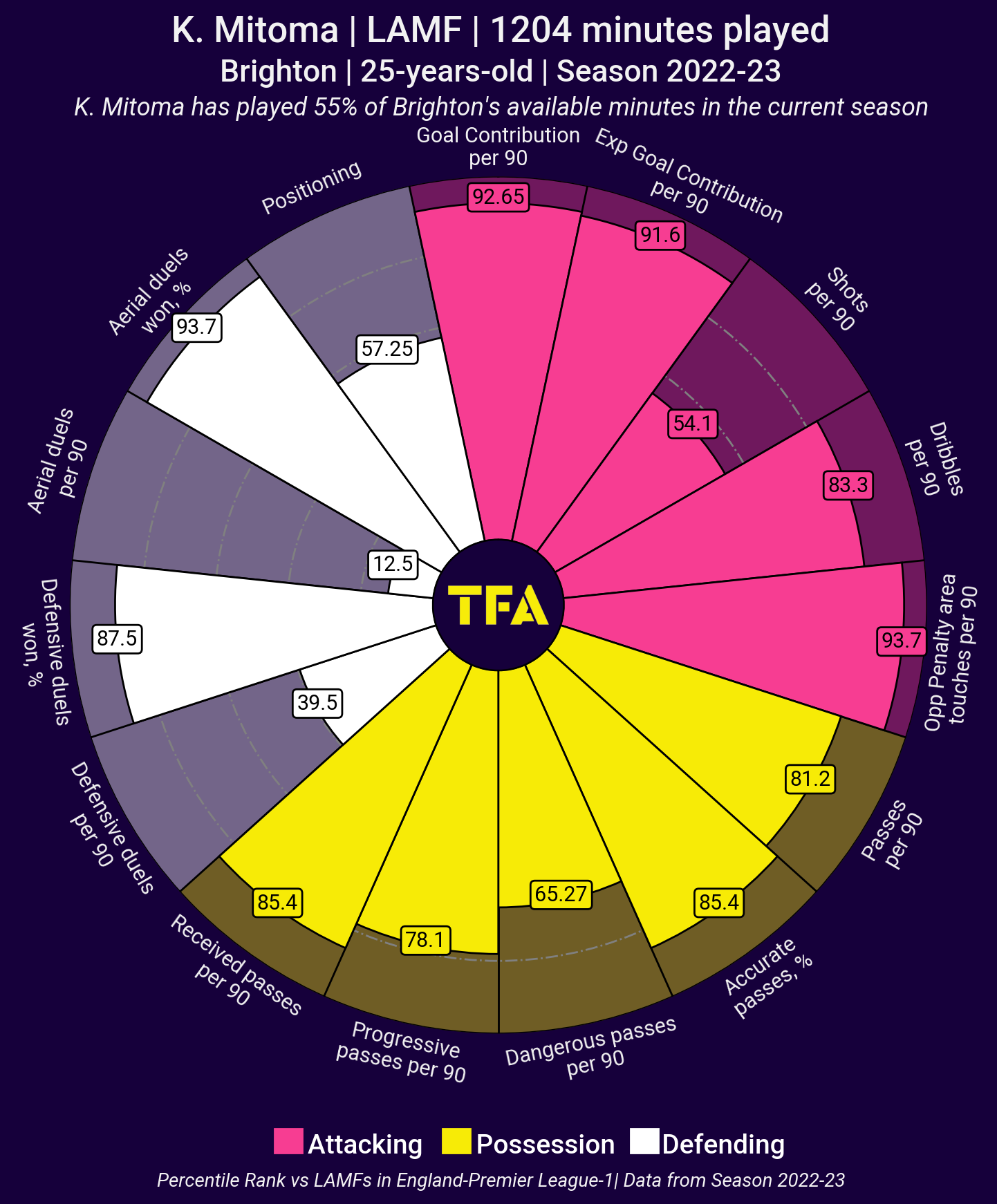 Kaoru Mitoma has made 19 appearances for Brighton in the English Premier League this season. He has made 12 starts and played 55% of Brighton's available minutes on the field. The forward has scored six goals and has four assists to his name. The above viz shows the percentile rank of the players in comparison to other left-sided attacking midfielders. Mitoma has a very high percentile rank amongst these midfielders. He is even ranked highly for winning duels on the field.
Impressive attacking displays
Kaoru Mitoma has scored some crucial goals for his side this season. Of the six goals scored by the player, four came in a winning cause, one was scored in a draw, and one in a loss against Arsenal. The 25-year-old has attempted 21 shots and has a high accuracy rate of 57.1%. He is a typical left-forward who often finds space at the back-post to tap in a few goals. Mitoma has dominated that particular wing in the attack for Brighton.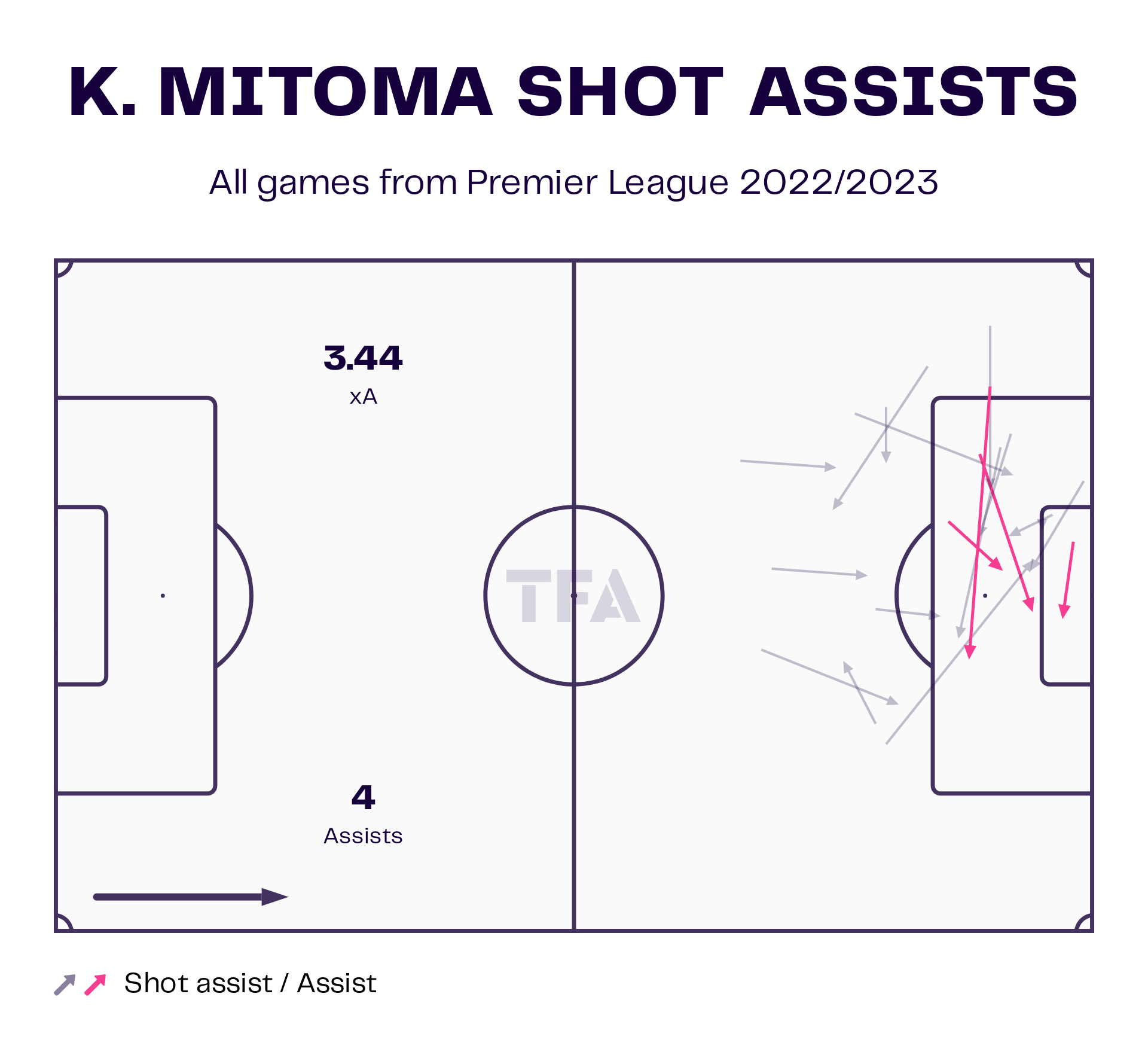 Other than scoring goals, he has created four goals for his teammates. Mitoma has 18 shot assists to his name and four have found the back of the net. By looking at the above viz we can observe that Mitoma likes to cut back a few passes in front of the six-yard box. These passes could have resulted in more goals.
Stretching the opposition's defence
Kaoru Mitoma likes to use his speed and skills to break down the opposition's defence. The first viz shows the winger's actions, and the second viz shows the penetration carries. Averaging 6.37 dribbles per 90 minutes, the Japanese international enjoys a 55.4% success rate. By looking at the above viz we can observe that a few successful dribbles have been attempted in the penalty box as well. He also delivers 2.56 crosses and 2.84 passes into the opposition's penalty box. These passes are either cutbacks to his teammate, which often result in a shot.
The penetration carries viz shows that Mitoma has a direct approach to penetrating the penalty box. He makes some diagonal runs and penetrates the box from the edge on the left side.
A perfect replacement for Trossard?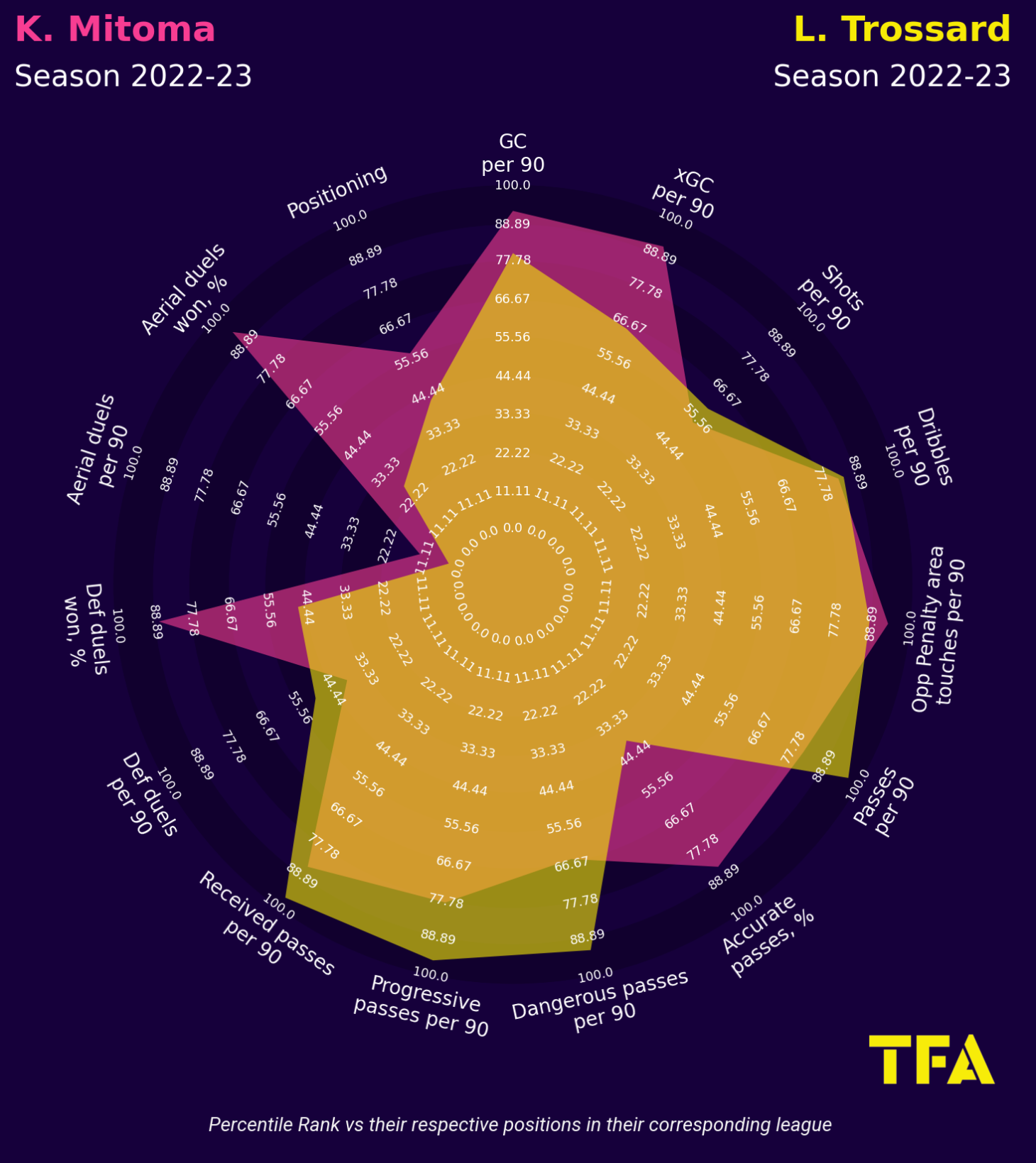 Leandro Trossard scored seven goals and provided two assists before leaving for Arsenal. He played on the left wing for the Seagulls. The above viz shows the comparison between the two players according to their percentile rank. Both players have similar ranks, with Trossard edging past Mitoma is some of the attacking and passing stats. Mitoma has a better record in winning duels and his positioning is better than Trossard's. Overall, these two players have a similar record and that makes the 25-year-old a perfect replacement.
Betting analysis
Brighton's betting odds were affected by Trossard's departure. Their odds rate of winning the match increased and the under goals were the most likely outcomes. However, Mitoma's sudden impact has once again lowered down their odds rate and the over goals are expected to thrive against weaker opponents.
Kaoru Mitoma has made a sudden impact on Brighton. He is a talented winger who has an eye for creating and scoring goals. His team is looking to make it to Europe and Mitoma needs to stay on top of his game to take them a step ahead.
statsVisuals via TFA data viz engine