Arsenal will play host to Newcastle United in the English Premier League. The Gunners have a seven-point lead over Manchester City at the top of the table. Newcastle United, on the other hand, are having a remarkable season and are currently in third place. Both teams will look to capitalise on their strong starts and continue the momentum going into this match.
Arsenal are leading the English Premier League table with 14 wins, one draw, and one loss. The Gunners have netted 40 goals and average 2.05 xG per match. Their defence has leaked 14 goals with an xGA rate of 0.88. Arsenal have won their last five matches in the league.
Newcastle United have nine wins, seven draws, and one loss this season. They have scored 32 goals with an average xG rate of 1.95. They have the best defence in the league and have only conceded 11 goals (xGA 1.13). Newcastle United are unbeaten in their last 12 matches.
We now look at some of the stats that could predict the outcome of the match.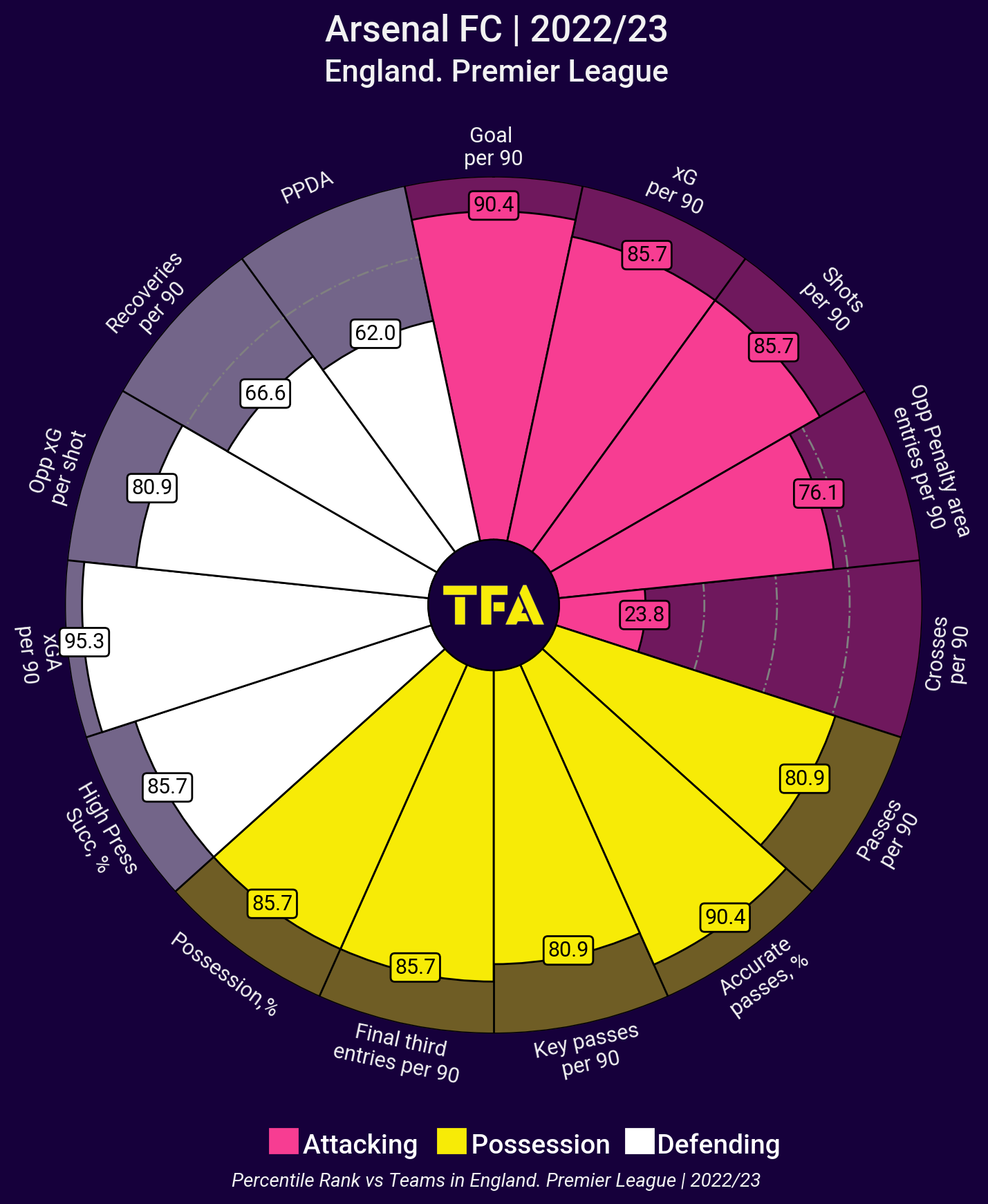 Arsenal have been one of the top performers this season. They have scored goals, defended one- and two-goal leads, and taken three points from these matches. The above viz shows the percentile rank of the Gunners in comparison to the other teams in the English Premier League. It can be observed that Arsenal have a high percentile rank in almost every department. Notably, the team has a high passing accuracy rate, which has allowed them to keep the momentum during the game.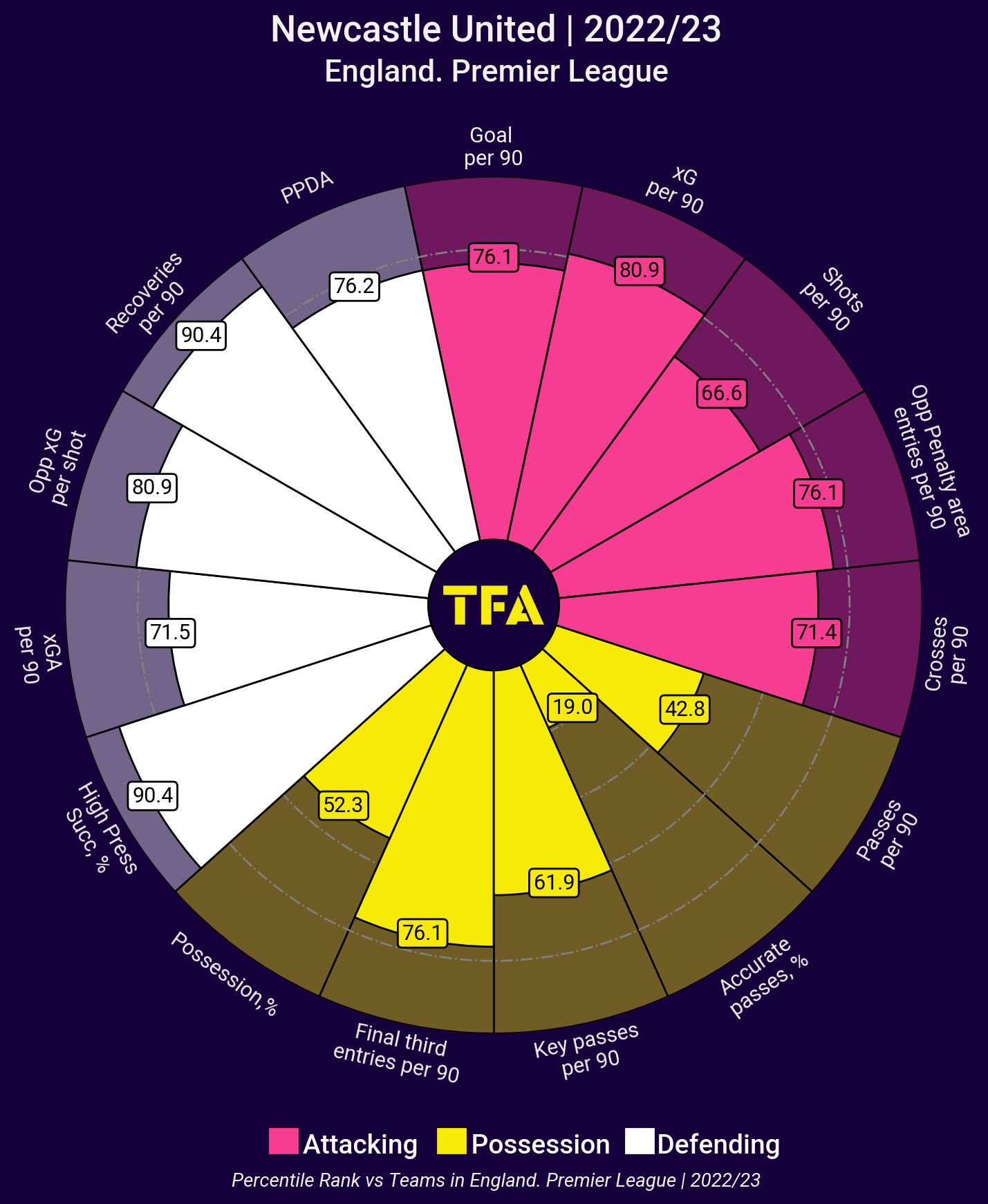 Newcastle United have also performed well this season. When looking at the above viz, it can be observed that the Magpies have a good rank in attacking and defending departments. They are decent at keeping the ball but have managed to get results despite having a low passing rate and accuracy rate. They will allow Arsenal to keep the ball and continue to play in the same way they have this season.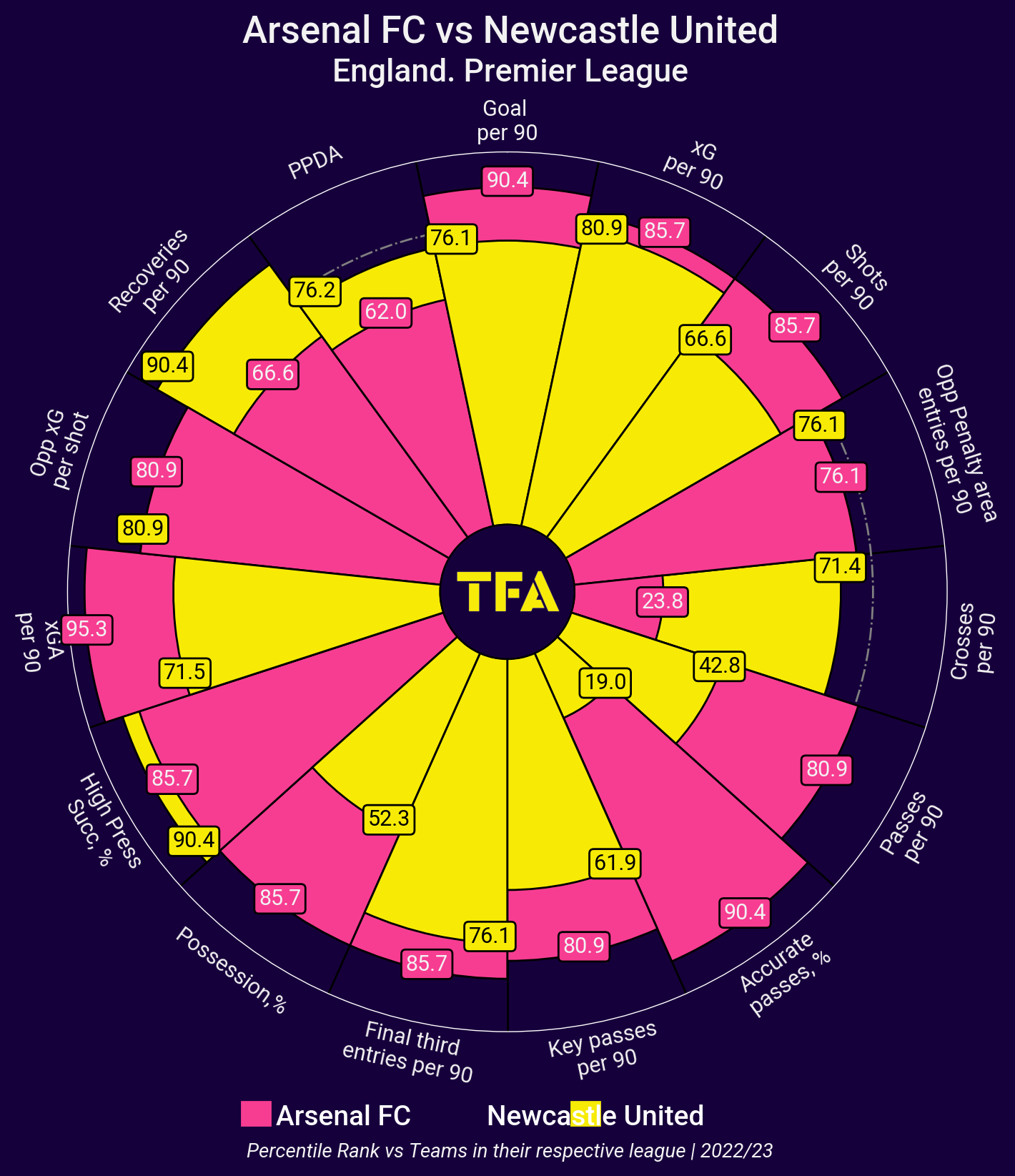 The comparison chart shows that both teams like to press hard and have a good success rate. Arsenal have been better passers of the ball, and their attack is also better than the Magpies'. However, Newcastle United edged them in the defensive department, especially for making recoveries in the match.
Arsenal's attack vs Newcastle United's defence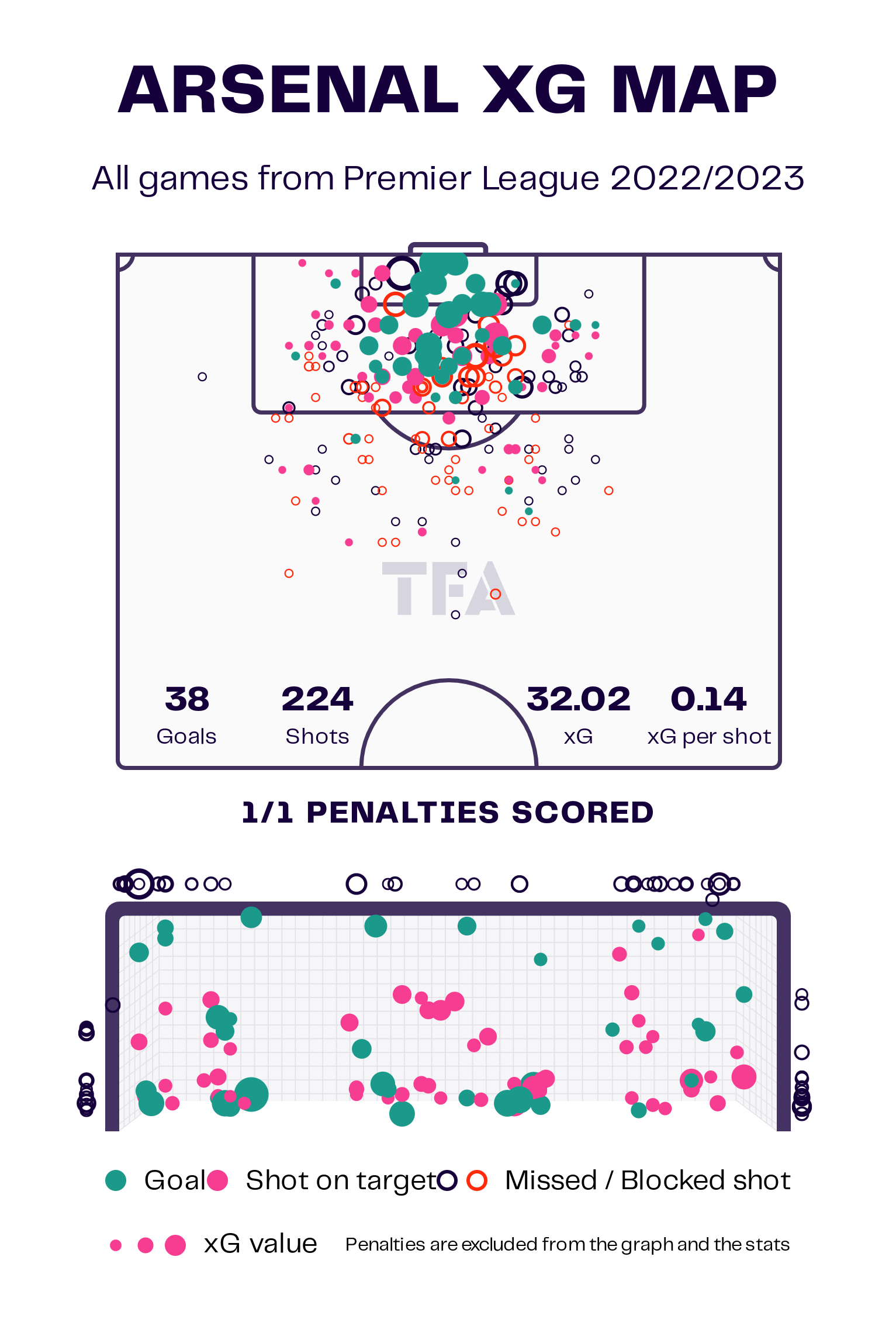 Arsenal will look to stay on the attack from the start. The Gunners average 33.44 positional attacks and 1.81 counterattacks per match this season. On average, they take 14.06 shots per match and have a 41.3% accuracy rate. At home, the attacks go up to 38.29 positional attacks and 1.71 counterattacks. The Gunners take 16.57 shots at home and have a high accuracy rate of 47.4%. The above viz shows that Arsenal have scored all their goals from very close range.
Newcastle United create 31.94 positional attacks and 1.56 counterattacks per match. They take 12.94 shots and have a 36.2% accuracy rate. They struggle away from home and create 25.75 positional attacks and 1.5 counterattacks. They only average ten shots per match on their travels and hit the target 37.5% of the time.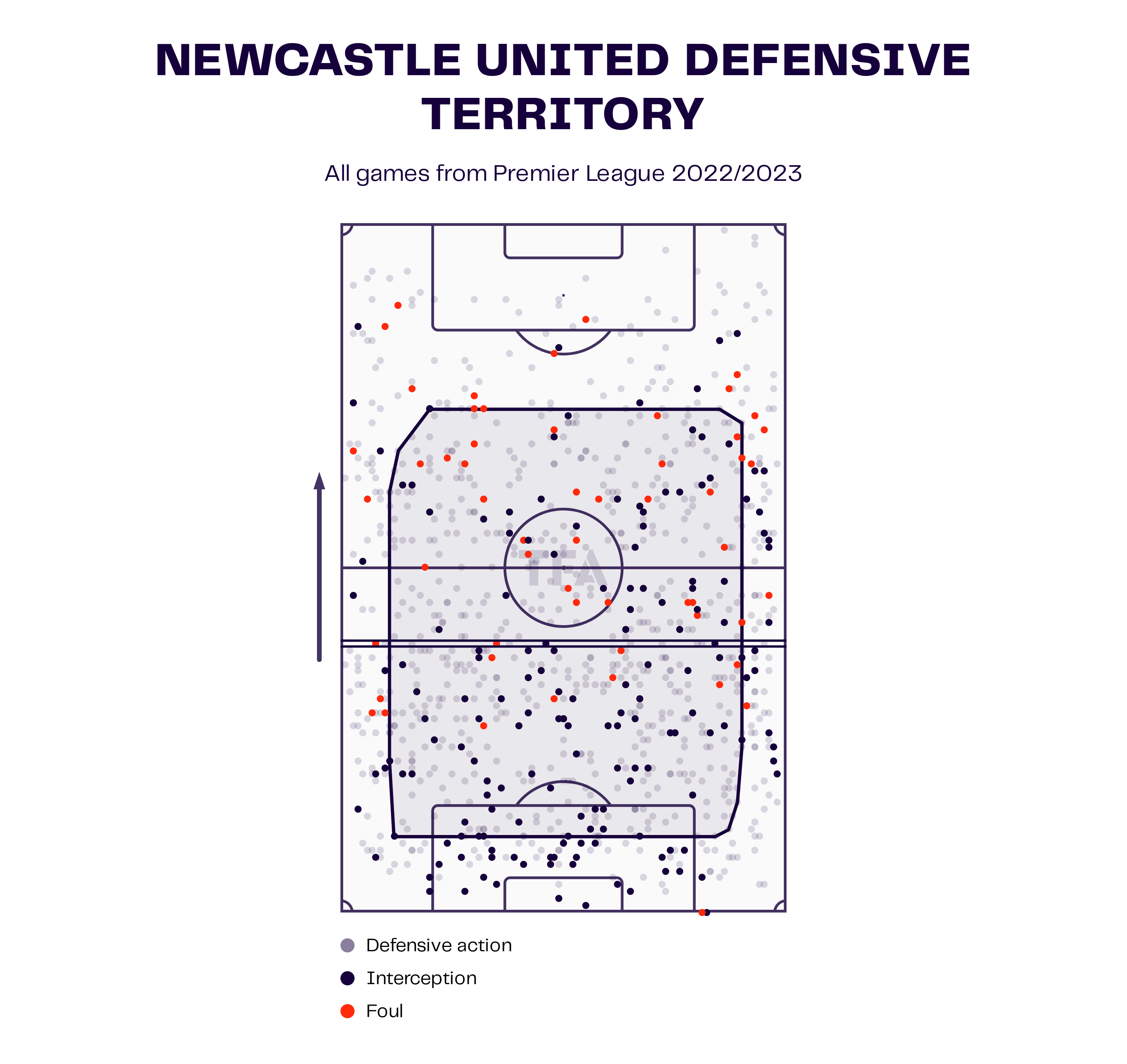 Newcastle United's defence will be key against this high-attacking Arsenal side. The Magpies have conceded the fewest goals in the English Premier League. Eddie Howe's men intercept the ball 47.63 times per match and have won 60.4% of their defensive duels and 48.7% of their aerial duels. They make 53.5 interceptions on away duties and win 58.8% of their defensive duels and 49.6% of their aerial duels. This will be a test for Newcastle United's defence.
Arsenal, on the other hand, wins 61.2% of their defensive duels and 46.8% of their aerial duels. They make 39.13 interceptions per match. Both defences will have a busy day.
Key players
Arsenal's captain and top goalscorer, Martin Odegaard is leading his team by example. The Norwegian has four goals and two assists to his name in the last five matches. This includes a match-winning brace against the Wolves. Overall, the player has scored seven times and given five assists. Martin Odegaard is in top form. The 24-year-old has attempted 35 shots with a 42.9% accuracy rate this season in 15 matches. In the last five matches, the attacking midfielder has taken 19 shots and eight have been on target. He will look to add more goals to his name in this match.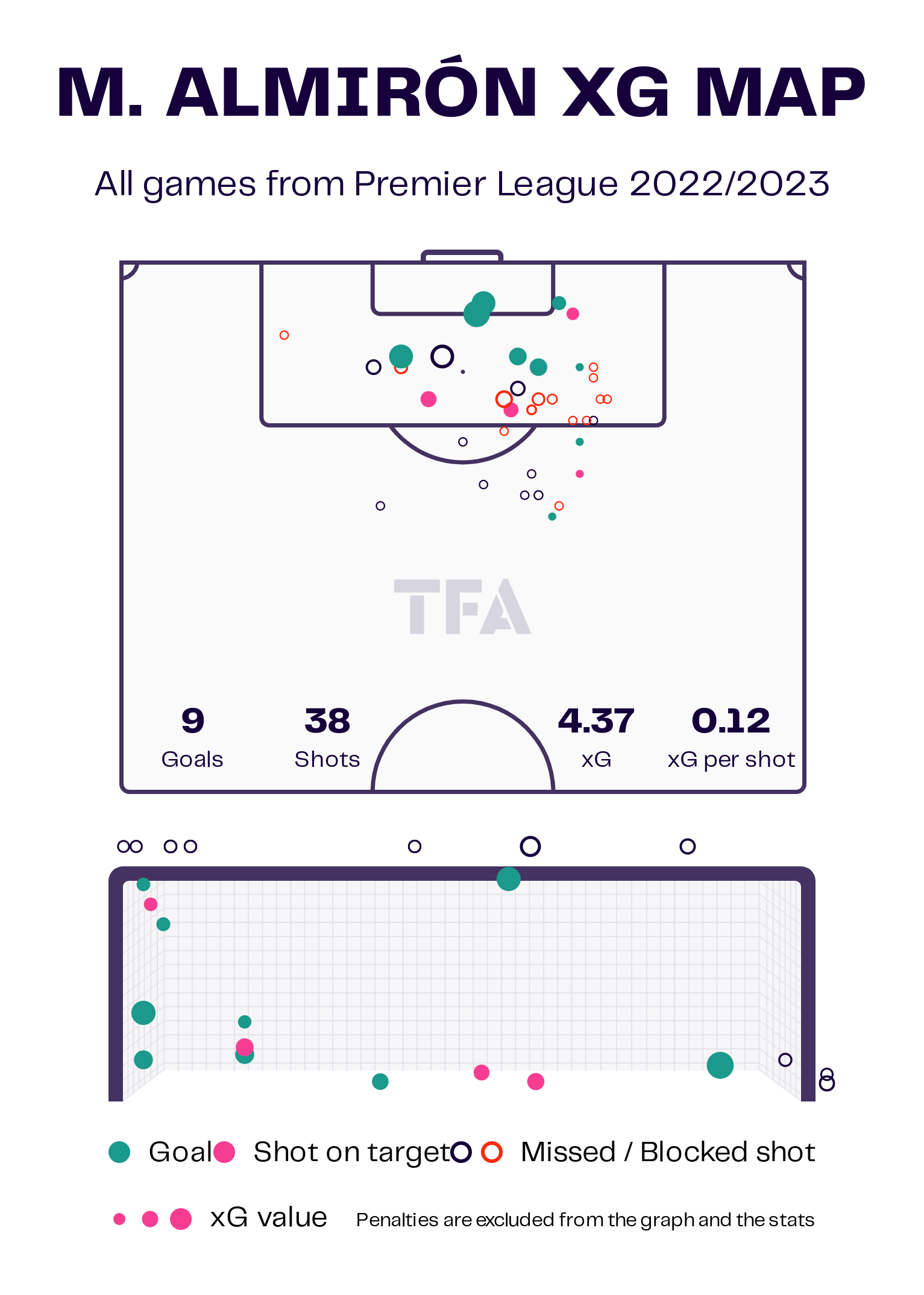 Miguel Almiron will carry the same threat for Newcastle United in this match. In Newcastle United's colours, the 28-year-old is having his best season yet. He has nine goals and one assist in 17 English Premier League matches. The above viz shows that Almiron has taken 38 shots, and he averages two shots per match. The Paraguayan international has scored most of the goals toward the far corner. He will look to beat Arsenal's defence and take a point away from North London.
Team news
Mikel Arteta is unlikely to make changes to the starting lineup in this match. Gabriel Jesus is the only absentee from his preferred 11.
Callum Wilson could return to the starting lineup for the Magpies. Jonjo Shelvey, Matt Targett, Alexander Isak, Emil Krafth, and Paul Dummett will be unavailable for selection.
Arsenal will face a tough test at home against this Newcastle United side. Eddie Howe's men are enjoying their football and have played well against the big teams this season. The manager will demand the same level of performance against the English Premier League leaders. The Gunners have the home advantage and will look to capitalise with three points in this crucial fixture.
Visuals via TFA data viz engine